SPORTS BASEMENT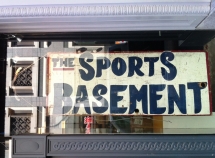 At LostinSF, we think Sports Basement is simply the best sports store in San Francisco. They sell great sport equipments at very good price.
Sports Basement built its reputation on a specific style, a service, people and a good spirit. The brand gets involved with and for its community and offers at very competitive prices everything that deals with sport and outdoor activities. Just add a very cosy environment where you can get some rest on a thriftshop sofa while the kids play ping pong or practice their soccer juggling. Stress is not part of Sports Basement vocabulary.
If you like... running, swimming, walking, skiing, camping, biking... Sports Basement is "The place to go". It's a local retailer with 4 stores in the Bay area that sell the best brands (North Star, UGG, Asic, New Balance…) at basement prices.
Plus, it's a fun shopping experience. The two stores in SF (Crissy Field and The Mission) have a free parking lot, and you get 10% off if you are a AAA or YMCA member. They also do ski rental during the winter at very competitive price (lower than in ski resorts for sure). And if you need to repair your bike or check your brakes, just stop by and they will fix it for you.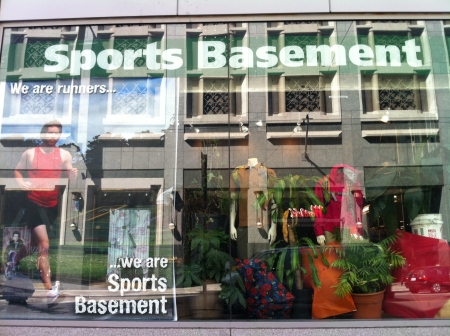 Sports Basement
Agenda
Movie releases, Festivals & DVDs

Theatre plays, Ballet, Opera

Jazz, Rock, Pop, Symphonic & Co

Museums and Art Galleries

If you have some spare time...