snap+share : new exhibition opens at the SFMOMA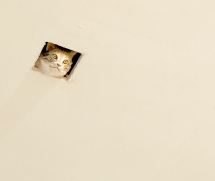 snap+share: transmitting photographs from mail art to social networks. Ready, snap... share.
We had the chance to attend the special walk-through of snap+share: transmitting photographs from mail art to social networks, the new exhibition opening March 30 at the SFMOMA, with Clément Chéroux, senior curator of photography at SFMOMA, and artists Aram Bartholl, Jeff Guess, Kate Hollenbach, David Horvitz, Ken Ohara and Corinne Vionnet
Long story (not that long actually, barely a few decades) short... This unique exhibition traces the evolution of sharing images from 1960s mail art to the first cell phone photo to today's Internet memes.
The first 2 rooms are rather historical, when the next ones are totallt contemporary.
It all starts with a over-cute baby's photo. On June 11, 1997, French software engineer Philippe Kahn sent a grainy color photograph of his infant daughter Sophie, moments after she was born, to his family and friends using a cobbled-together contraption made up of his mobile phone, a digital camera and a linked online network. He reached 2000 persons. A real exploit at that time. Since then, technology has changed the game. And we all (a lot of us actually) feel the ''vital urge'' to share ourselves, our present, our location.
This exhibition has something special because, basically and primarily, it is about us, directly, in our daily routine.
The youngest ones will have fun watching the 90's early stages and and beginnings of sharing images and snapshots. The other ones (which means older ones) will smile at them browsing through their own memories.
Next part? Next part, following parts are all at once funny, moving, overwhelming actually, ultimately disturbing and troubling. Our phones have become the extensions of our arms and we are the over-active actors of this teeming and constant images circulation and flow.
What we liked the most... is that snap+share raises questions and develop our awareness and understanding about ubiquity, about the difference between the map and the territory, about the Time, the one we gain, the one we waste.
You will most probably take a selfie in a freezer with the code #241543903 following the instruction and initiative by the artist David Horvitz...
You will add another layer to the already multi-layer pictures imagined by Corinne Vionnet. Not only are we all sharing pictures, but we are actually sharing the exact same ones.
You will be tempted to add your own paper photos to the mountain by Erik Kessel, but you will resist the urge.
You will look for the cat by Eva and Franco Mattes.
You will possibly shut your phone down when watching the digital installation by Kate Hollenbach. Big Brother is watching you... you knew it already. And your phone is his eyes.
And arriving to the SFMOMA or leaving it, you will wonder with giant installation by Aram Bartholl whether you are here, there or elsewhere. Who knows? Do you?
Speaking of snap+share, we will refrain from sharing too many pictures... to let you enjoy the exhibition with your own eyes.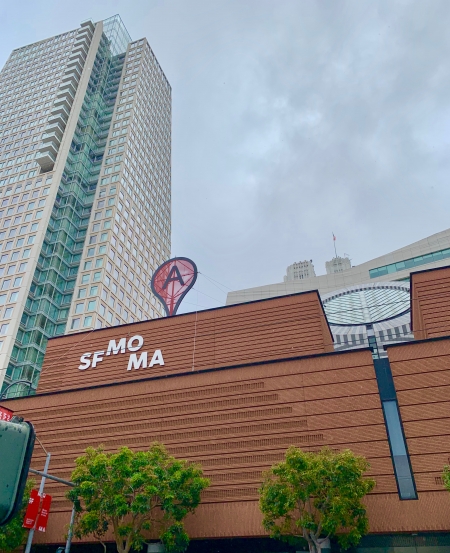 Map - On the rooftop of the SFMoMA - by Aram Bartholl
snap+share: transmitting photographs from mail art to social networks
@ the SFMOMA
March 30–August 4, 2019
Plus d'infos sur le site du Musée
Agenda
Movie releases, Festivals & DVDs

Theatre plays, Ballet, Opera

Jazz, Rock, Pop, Symphonic & Co

Museums and Art Galleries

If you have some spare time...