SF SHOPPING GUIDE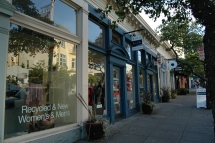 San Francisco has a reputation to look like a European city, with small boutiques and cafes. And that's what we love about it.
Named after their main shopping street, each neighborhood described below, with its own style, its famous local stores, its unique shopping crowd, deserves a visit.
And fortunately that's not all the city has to offer... you may find some hidden shopping gems off the beaten track.
Chestnut Street (between Divisadero street and Fillmore street)
This street in the Marina District is a trendy shopping destination. With its eclectic mix of shops, from big chains like Gap, Apple Store, Lucky Brand… to multibrand fashion stores, there is something for all tastes. And for those who don't like shopping, just grin and bear it in one of the numerous restaurants and bars, cup cakes stores and coffee spots.
Union Street (between Steiner and Gough)
Still in the Marina, a few blocks above Chestnut Street, the charming Union street is another good shopping destination with upscale local boutiques and eateries. Be aware, you won't find any big American chains here, if that's what you are looking for ; a San Francisco regulation prohibits chains to open their umpteenth outlet on Union street.
Fillmore Street (between Jackson and Geary street)
Bounded on one end by the exotic Japantown and on the other end by the Pacific Heights mansions, Fillmore street has all the variety you can find in SF. It is upscale, but not too snobbish. It is cheap (with thrift stores such as Crossroads trading and the Goodwill store) and chic altogether. It is a perfect destination for fashion boutiques, like Marc by Marc Jacobs or James Perse, and for home décor with stores like BoConcept, Jonathan Adler or Zinc.
Laurel Heights and Sacramento Street (between Maple street and Presidio Av)
A residential and family friendly neighborhood. This convenient shopping area is the place to go when shopping for kids (particularly Laurel Village), or upscale fashion and accessories (Sacramento street). This area is also well known for its antique shops. Parking is usually easy: metered parking on Sacramento and ticket system to validate at the back of Laurel Village.
Noe Valley 24th Street (between Diamond and Dolores Street)
Also Known As "Stroller Valley", this relatively flat neighborhood is popular among young couples with children. 24th street is a succession of local fashion stores (Ambiance and Rabat for instance), children's boutiques (clothes, toys…), and kids friendly restaurants.
Hayes Valley (between Buchanan street and Franklin street)
Hayes Valley became the upscale charming shopping district it is today after the 1989 earthquake which destroyed part of the freeway ramps ending in the area. As noise and pollution disappeared, commerce moved in, especially in the 90's. The upscale modern fashion boutiques and cute children apparel stores line up along design stores, bars and restaurants. Temptation is hard to resist, thank god price tags will help you.
Haight Ashbury (from Stanyan street to Masonic street)
This unique neighborhood was San Francisco's epicenter for the hippie culture in the 1960s-70s. If the flower-power peace&love vibe can still be found today (tourists seem to appreciate these remnants of the past), the shopping scene has changed a lot, making it a more upscale yet "so diversity SF" destination with high-end vintage stores, trendy surf brands, local fashion boutiques…
Union Square (Downtown SF)
A popular shopping district for tourists, Union Square has something for everyone: department stores, a mall, international luxury brands (Chanel, Prada, Vuitton…), fashion stores for lower budgets (Zara, H&M, Forever 21…), tourist shops, art galleries, parkings, restaurants, ATM, tourists attraction… Did you get the "shopping picture"? This time you won't be able to resist the temptation… To avoid the crowd (during the Holiday season, it can be a nightmare), shop on weekdays, preferably in the morning.
Valencia Corridor in the Mission (between 14th et 22nd street)
This part of the Mission District has undergone a gentrification during the first internet boom. The crowd of shoppers is young, trendy and upscale. If you are a design and antique fan, stroll along Valencia street, you will find plenty of 20th century modern dealers that have recently settled in. This neighborhood is also well known for thrift and vintage shops and consignment stores.
Clement Street (Between Arguello blvd and 7th avenue)
Not the mecca for shopping and not as hype as the Mission (nevertheless, it might change), this small part of the inner Richmond conceals some good surprises like "April in Paris", a custom made leather bag and accessory store, owned by a former employee of Hermes, "Green Apple Books", a popular book store, and "Seedstore", a trendy fashion boutique.
North Beach
AKA San Francisco's Little Italy, this neighborhood is particularly renowned for its nightclubs and bars. On Upper Grant Avenue, you'll find small fashion boutiques, vintage clothing for men (Old Vogue), and thousands of CDs at 101 Music.
Polk street (between Broadway and Pine street)
At the foot of Russian Hill, you'll find some nice shops and restaurants. There is a wide variety of stores: the upscale secondhand store CRIS, affordable fashion stores and Lombardi Sport for sports.
Agenda
Movie releases, Festivals & DVDs

Theatre plays, Ballet, Opera

Jazz, Rock, Pop, Symphonic & Co

Museums and Art Galleries

If you have some spare time...