SF & ITS MICROCLIMATES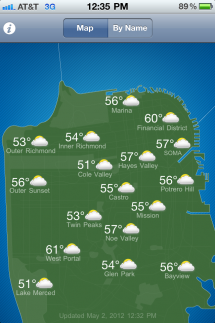 SF Climates - New application
All right, we all know that San Francisco climate and weather is … let's say… unpredictable!
You take a walk in the Mission under a warm (sometimes even slightly too warm) sun. Then, you change your mind and run to Clement street where you hit the cloud. So you leave and head Downtown where you enjoy once again the warm (sometimes slightly too warm) sun. Then, you remember you have an appointment close to Ocean Beach and you feel like it's going to be like going on vacation. And yes, it's going to be like vacation, but not exactly Cabo San Luca in April!
OK, what do we know for sure?
1. Layers, layers, layers is the moto when it comes to what am I going to wear?
2. Fog is not a myth.
3. Yes, weather can dramatically change from a neighborhood to another one. That's a fact.
4. One cannot be everywhere at the same time. So, who should we believe?
The good friend bragging from Mission or Noe Valley (without mentioning East, North and South Bay… if you see what I mean…) when you use a radar anywhere else?
No. Now you have SF Climates, a new application that informs you instantly about weather in the different SF neighborhoods.
Anyway, in San Francisco, the sun is always shining… at least in your heart!
Take a look and download SF Climates.
Agenda
Movie releases, Festivals & DVDs

Theatre plays, Ballet, Opera

Jazz, Rock, Pop, Symphonic & Co

Museums and Art Galleries

If you have some spare time...