School supplies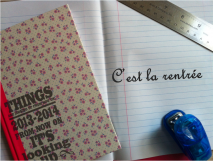 Back To School !
Binders, notebooks, lined paper, workbooks, rulers, pencils, pens, scissors, glue sticks... Check out our selection of addresses for school and/or office supplies.
Office Max
1750 Harrison street, Mission
3700 Geary blvd, Richmond
Office Depot
2300 16th street, Mission
33 Third street, SoMa
Walgreens
Very convenient all throughout the year, and not only in September.
Costco
Large quantities @ low price.
450 10th street, SoMa.
Morrison School supply
School supplies specialist in Sunnyvale.
400 Industrial Rd, San Carlos
560 E El Camino Real, Sunnyvale
http://www.morrisonschoolsupplies.com/
Some neighborhood stationery stores :
Just for fun
Qualitative stationery department as well as art supplies.
3982 24th street, Noe Valley.
www.justforfun.invitations.com
Sunset Stationers.
Good selection for fountain pens for example.
1248 9th avenue, Inner Sunset.
Gable's Stationery
Good to know for last minute shopping.
5636 Geary bld, Outer Richmond.
Don't forget to go to Maido in the Westfield Mall or in Japan Town. One of our favorite stationery stores!
At last:
You can also shop at Art supplies stores even for school supplies (they have plenty of fountain pens, qualitative notebooks, fancy pencil cases, colorpens...)
For the one who can't do without very specific brands (Clairefontaine for the frenchies, Waterman...), take a look @ Amazon.com.
You should know Daiso et Ichi Ban Kan in Japan Town, in the Sunset district on Irving or in Daly City. They offer so many things that you will get used to visit their stores again and again...
Agenda
Movie releases, Festivals & DVDs

Theatre plays, Ballet, Opera

Jazz, Rock, Pop, Symphonic & Co

Museums and Art Galleries

If you have some spare time...