Santacon or not Santacon? That is a question.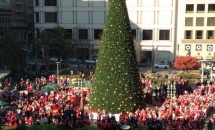 Santas tsunami over San Francisco... It is the Santacon effect. And it is supposed to be Saturday, December 8, 2018.
About SantaCon 2018...
There has been some confusion these last few weeks. SantaCon or not SantaCon, cancelled ? Forbidden ? Unauthorized ?
On the event website, one can read that the City of San Francisco, mainly for safety reasons, said that SantaCon should not take place in SF.
''... the event is not, and will not be, sanctioned by the City and that if you do show up you will be asked to leave.''
''SantaTom'' wrote on the comments thread that the ecent was not cancelled, but was not welcome either.
For your own judgement or interpretation, check the SantaCon website for San Francisco >> event website
♦◊♦◊♦◊♦
SantaCon in the past...
Santacon started in 1994 here in San Francisco. Since then, the idea spread out to about 300 cities all over the world. New York hasa reputation of gatherng the widest crowd of Santas.The issue is that Santacon is basically a bar crawl with all the inconvenient consequences that one can imagine. So, especially this year, some neighborhoods were pretty reluctant to welcome Santas!
Amid the different reactions to ban the event, some people even announced Santacon was dead.
Apparently not. But, as last year already, instructions are very clear. It was all about being nice, polite, and well behaved. Organizers keep posting instructions, rules and regulations, advice and things to do. Let's say that it looses in anarchy style but gains in civility and manners.
Santacon? What is it all about?
Santas walk in groups, gather at Union Square at 12pm sharp, some of them bring presents for the San Francisco Fire Department's toy program and others try to start a snow ball fight at Duboce (that happened in the past). And then they walk all over the city to visit their favorite bar spots.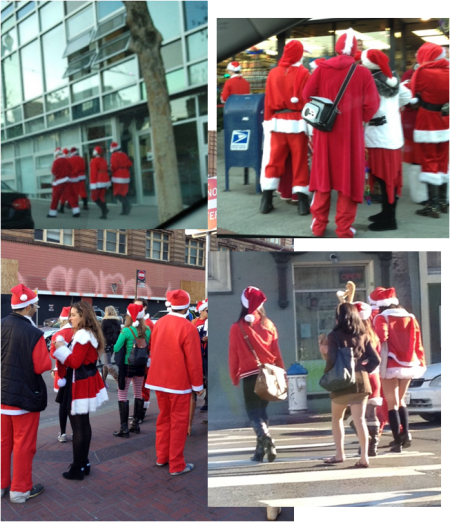 There were red, blue (not because of the weather that was just gorgeous), green (ok, those were elfes) Santas. They wore pants, shorts, skirts, most probably sometimes nothing. There were Santas with beards, mustaches, hats, no hats, long hair, make up, boots, running shoes (not really Santa's style!) Our favorite were 2 Elvis Santas!
Most probably it will turn into a bar crawl... as usual. Organizers even listed the bars to visit... or avoid in plenty of different neighborhoods. It all depends on your mood and plans for the day and evening and night.
Ok, you will most probably meet some miserable Santas, but in the end, it can be rather friendly and fun...
Watch out... Santacon is coming to town!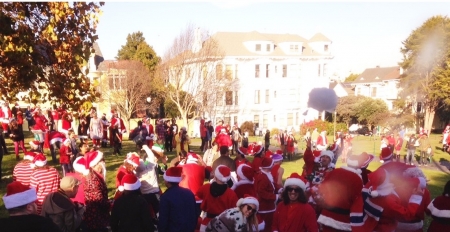 Santacon
Saturday, December 8, 2018
Top picture
Santacon 2014 - Union Square
Photo by Gregory Galin
Agenda
Movie releases, Festivals & DVDs

Theatre plays, Ballet, Opera

Jazz, Rock, Pop, Symphonic & Co

Museums and Art Galleries

If you have some spare time...