San Francisco, The city that knows how
[update] The screening has been cancelled.
San Francisco, as the main topic of a documentary? That was obviously going to draw LostinSF's attention! Let's talk about our favorite subject... San Francisco.
And behind this documentary? A French co-director, Laureline Amanieux. For LostinSF' readers, Emma took a closer look at it and let you know about its upcoming screening in San Francsico, on October 27, 2016.
Laureline Amanieux is a French Author and Documentary art director. She used to live in San Francisco and now is based in Paris. She has always known that San Francisco is a different city and she wondered how this city is influencing the art and the artist through the time. Is it still the case?
So she interviewed various local artists and mixed their records and stories to achieve this documentary.
Love Letter to San Francisco, this movie reveals the town as a piece of art seen through the eyes of its contemporary artists (writers, musicians, street artists, poets and illustrators) and its committed communities. Watch the trailer.
SAN FRANCISCO, THE CITY THAT KNOWS HOW
@ PUBLIC LIBRARY SAN FRANCISCO
Koret Auditorium
Main Library
100 Larkin St. San Francisco
Thursday, October 27, 2016
5:45pm - 7:15pm
In English with French subtitles. 62 minutes
More infos about the screening, click here.
Open to the public.
Q/A following the screening with Laureline Amanieux; artist, Paul Madonna; poet, Matthew Zapruder; and Berkeley PHD teacher, Maia Beyler.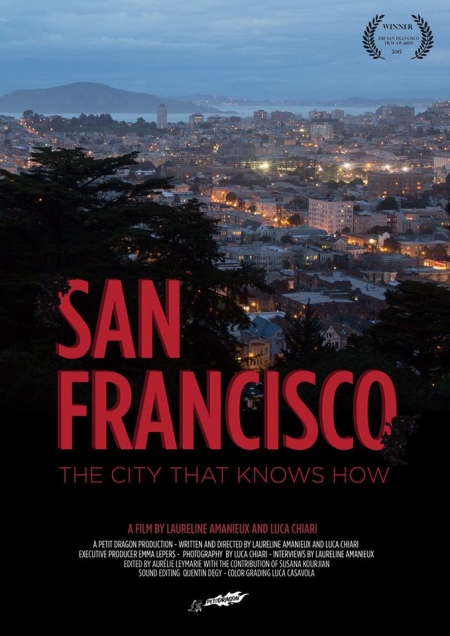 Contribution : Emmanuelle Serroy Leaf
Agenda
Movie releases, Festivals & DVDs

Theatre plays, Ballet, Opera

Jazz, Rock, Pop, Symphonic & Co

Museums and Art Galleries

If you have some spare time...