SAN FRANCISCO REAL ESTATE OVERVIEW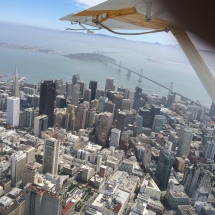 What happened in San Francisco real estate in 2014?
Misha Weidman

,

real estate blogger

, broker, and a regular contributor to LostinSF gathered some figures and charts to support his overview and analysis of the San Francisco real estate market. Instructive and enlightning!
Three years into SF's booming recovery, inventory remains at record lows and prices approach or exceed record highs across most of the city. End of story. Goodbye.

In some respects, it really is that simple. But in this report we'll try to provide some context for the numbers and, in addition, we will break them down to show where there still remain some (relatively) affordable neighborhoods in San Francisco. In future articles, we will focus on specific neighborhoods in even more detail.
SF Bay Area: 45% Appreciation and Going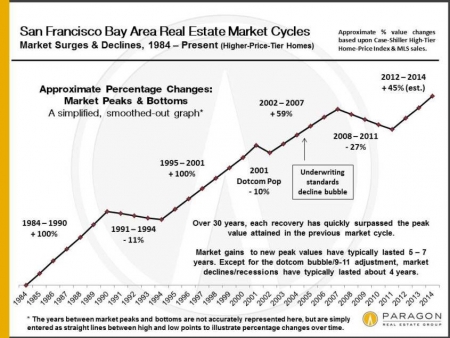 As a whole, the San Francisco Bay Area as measured by a widely-followed index known as the "Case Shiller" Index is up 45% since the recovery began at the start of 2012, though it remains below the high it reached in April 2006.
For those who say "this can't continue," a thirty year view suggests that indeed it may -- for a few years, anyway. We are 3 years into the current upward cycle ; historically they last 5 to 7 years. Will this one ? I'll stick my neck out and say that it's hard to see anything currently on the horizon that suggests an imminent collapse. A slowing in the rate of appreciation, sure. A 5-10% correction, maybe. But with interest rates low, continuing low supply and SF's local economies continuing to mint new millionaires and attract record numbers of new people to the city, I believe that this sellers' market will probably continue for several more years.
San Francisco: Prices up 70% since 2012 and 20% Year over Year
If we exclude the much larger metropolitan area included in the Case Shiller analysis and focus instead on San Francisco alone, the increase in prices is even more astonishing. Between Q1 2012 and Q4 2014, home prices have surged 70%. Year over year, they're up 20% over the fourth quarter of 2013.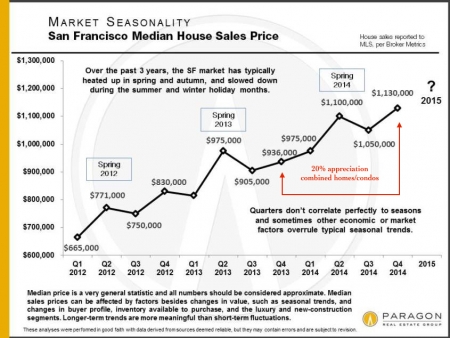 Neighborhood Affordability
The most affordable neighborhoods tend to be clustered in the south-east quadrant of the city near I-280, one of two major freeways that ring San Francisco. A few of these neighborhoods can be somewhat ''uneve'' in terms of safety and physical appeal. However, other areas are solid working class neighborhoods that were originally developed in the mid 1920's. The homes themselves, while modest, can have plenty of charm, with Mediterranean arches and nice wood details. In some areas, they can be fully ''detached'' — a rarity in SF. As homes in more central parts of the city have appreciated beyond the reach of many people, these neighborhoods are getting a second look.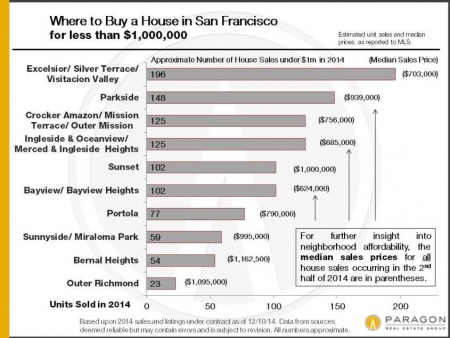 As for condos, sales volume is greatest in our newest "concrete canyons" near the financial district in areas like Yerba Buena and "SOMA", as well as in Mission Bay, a rapidly "rising" area along the waterfront which is being developed in support of SF's biotech industry and the University of California, San Francisco's new medical campus. Assume that you'll pay $1,000 to $1,200 per square foot (SF) for a no-frills condo in one of these newer buildings. Despite the gorgeous marketing you don't get much. Entire bathrooms - and sometimes bedrooms as well - are migrating to closets with frosted doors. Perhaps this will be the future.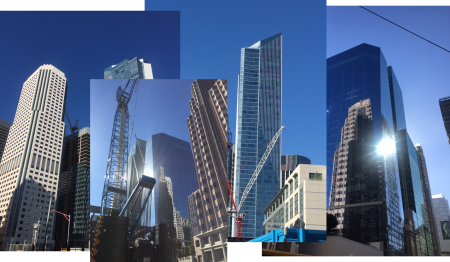 If you can afford a jewel box in the sky with a view and all the perks, you may be paying $2,000 per SF or more, well above the average prices shown in the second chart below.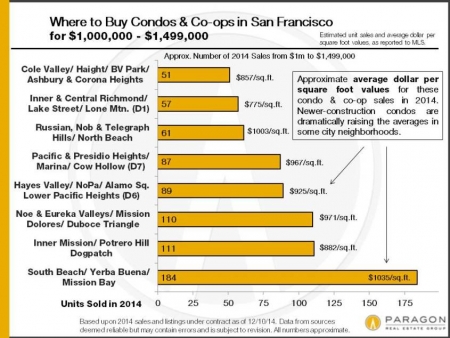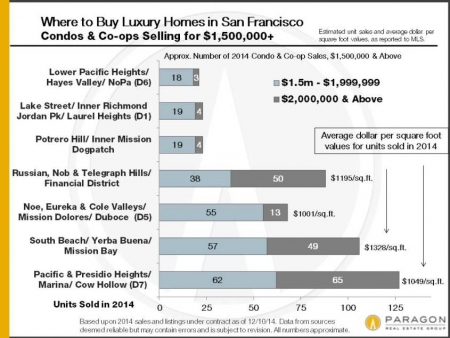 Luxury Homes
Over the past 3 years, the luxury home market has outperformed the overall market as wealth dramatically surged in the Bay Area. In the last 15 years or so, the high-end has been spreading from the classic, northern prestige neighborhoods - Sea Cliff, Pacific Heights, Russian Hill - to other neighborhoods around South Beach and Noe Valley. The upward pressure is now spreading to areas previously considered less desirable as people trade location for space and new construction. Some of these areas - Westwood Highlands, Balboa Terrace, for example - are subdivisions dating back to 1925, with lovely marina and Craftsman-style detached homes on smaller plots of land. Personally, I think these are some of the last neighborhoods in the city where you can still find "value."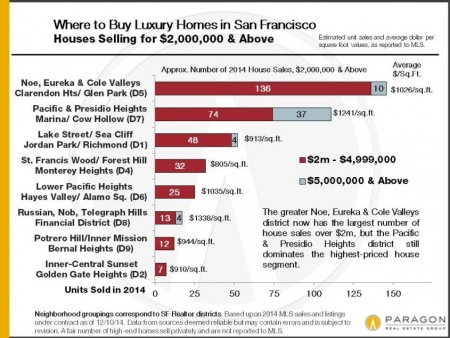 Low Inventory Getting Lower
Low inventory remains a huge issue. Typically, the year begins with the lowest number of listings, which then gradually increases into spring. In the past 3 years, buyers have woken up from the holidays much more quickly than sellers have put their homes on the market. This set the stage for the city's early spring market frenzies in 2012, 2013 and 2014. We will see whether this pattern repeats again in the spring of 2015.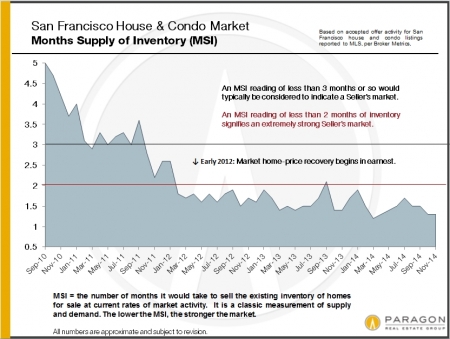 Mortgage Interest Rates
One of the big factors underlying the market's strength in recent years has been extraordinarily low interest rates, which have a tremendous effect on the ongoing, monthly cost of housing. In 2010, pundits almost universally predicted interest rates would rebound to 6% or higher, but instead rates dropped until hitting a low point in mid-2013 of about 3.5%. After fluctuating up and down a bit since, interest rates at the start of 2015 were somewhat below 4% - incredibly low by any historical standard. Even with an interest rate increase widely predicted by mid-2015, no one seems to be expecting a massive or rapid rise.
Advice for the Newly-Arrived
There is no doubt that this is a challenging market for buyers. What to do? First, see a bank about establishing credit. In my experience, the biggest surprise that newly arrived Europeans find in the US is that their history of no debt and cash purchases actually hurts their credit-rating and thus their ability to obtain a loan. My best advice is to get a credit card and start using it! Just be sure to make your payments every month.
Beyond that, get familiar with SF's many wonderful neighborhoods. It's just as difficult and expensive to find an apartment to rent right now, but renting will give you the time you need to both establish credit and to fully explore the many wonderful neighborhoods that SF has to offer. You will certainly find many to love. How many you can afford is another question!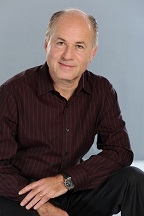 Thanks a lot Misha for these comments and recommendations.
If you want to read more about the real estate market events, development, evolution, trends... visit RealDataSF.com
Former articles...
Rent or buy in San Francisco. Read the article.
San Francisco Real Estate speculative bubble. Read the article.
February 2015
Agenda
Movie releases, Festivals & DVDs

Theatre plays, Ballet, Opera

Jazz, Rock, Pop, Symphonic & Co

Museums and Art Galleries

If you have some spare time...