RONE IN SAN FRANCISCO
The French musician and producer will perform at the Rickshaw Stop on June 5, 2015 to introduce his Electro Creatures.
In less than a decade, Erwan Castez built up his career as Rone and became one of the most acclaimed French musicians on the electronic scene. Ok that sounds kind of like a formualic and conventional depiction. And yet... actullay, everybody wants to be friend with Rone, work with him, collaborate and be part of his creative, musical and artistic influence.
He already has 3 albums to his credit. The latest one, Creatures, got released beginning of the year. Which explains the US tour he started in Chicago in May and and will finish in LA, SF and Seattle.
@Club Los Globos - Los Angeles June 4, 2015. Click here.
@ The Crocodile - Seattle June 6, 2015. Click there.
@ the Rickshaw Stop - San Francisco June 5, 2015. There are 2x2 tickets to win. Follow the link.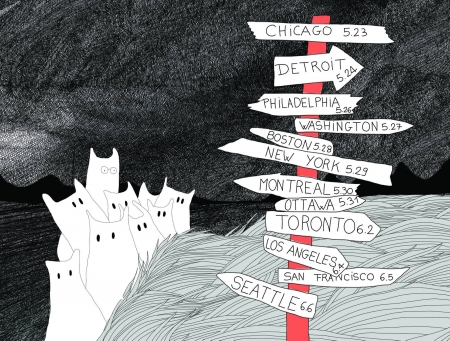 To be pretty honest, we just discovered him. We knew his name but we finally took some time to really listen to him, carefully, to take a closer look at his videos and the story behind the artist. We now listen it in a loop... Could not help!
First piece we listened to was Bye Bye Macadam! Addiction struck us! No, really. Try and you'll see.
Then, we turned to Parade and Gravity. Hard to believe you won't like them. The images, the creativity, the beats, the realm, the escape feeling, just make a whole and overwhelme you.
He collaborated with French artists such as Etienne Daho. But you will most probably better know Sufjan Stevens he worked with too. Btw, Sufjan Stevens will be at the Fox Theater the 5th and 6th of June for 2 sold out concerts in a raw. Coincidence?
For Quitter la ville (interpreted by French artist based in Brusssels, François Marry) from his latest album, there are even 2 videos both odd, peculiar and investigating a highly poetic and creative environment.
The airport version...
The B&W version in Dublin...
Rone will be at the Rickshaw Stop, June 5, presented by Popscene, that always brings great artists to San Francisco. Thanks a lot for the French touch.
See you on Friday!

RONE
@ the Rickshaw Stop
155 Fell Street
Agenda
Movie releases, Festivals & DVDs

Theatre plays, Ballet, Opera

Jazz, Rock, Pop, Symphonic & Co

Museums and Art Galleries

If you have some spare time...