RIDE YOUR BIKE IN SAN FRANCISCO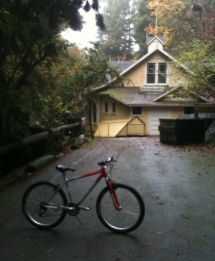 It might sound like a stupid, ridiculous, super challenging and ''doomed to fail'' plan. Unless you're a professional athlete, steep streets and hard blowing wind should bring your ambition down.
And yet ... Think again! Cycling in San Francisco is certainly a challenge, but it is primarily a lifestyle and even something like a political stand. It is for your own health and for "the planet earth health".
If you are serioulsy thinking about being part of this great adventure consisting in riding your bike in San Francisco, here are some websites to help you, and some important events you should know about.
*** First of all, you need to know 511. It is a hotline, but also a website 511.org providing information about transport and traffic in the Bay area. Click on "GoGreen", and you will find all information you need and help to get to know your ''best'' way around the city:
- The Bike Mapper (in this case, it's SFBike in cooperation with 511.org) will help you find the shortest or the flattest bikes friendly path in the city.


- Bikes on Transit. A way to promote the combined use of bicycles and public transportation. You'll get information about front racks on buses or bikes parking facilities (see the Bicycle Parking section)
*** You can also go to the San Francisco Bicycle Coalition (SFBike.org) website, a non-profit organization that aims at making streets safer for bike riders, and to promote cycling as a daily transportation opportunity. You'll find all the initiatives to further extend the space dedicated to bicycles in the city.

*** You can show your commitment by participating in Bike to Work days. Next year (2012), it is going to take place on May 12.
*** Enjoy the Car Free Sunday Streets that are apparently turning into a "must go". Read our article about those events throughout the year.


*** Keep in mind that the Golden Gate Park is closed to traffic on Sundays and major holidays (between the main entrance on Stanyan and Transverse Drive, from 6: 00 am to 6: 00 pm), allowing for all ''motor-free'' vehicles that roll, slide, walk, run to take possession of the park.
Convinced and ready to go? Now, you understand why the city is full of bike shops. You can find a selection of them in our Useful Addresses. So go ahead, and check first the Wiggle for a reasonable start.
Agenda
Movie releases, Festivals & DVDs

Theatre plays, Ballet, Opera

Jazz, Rock, Pop, Symphonic & Co

Museums and Art Galleries

If you have some spare time...