Respectfully irreverent: Godard Mon Amour, the latest film by Michel Hazanavicius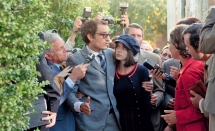 Godard Mon Amour, the latest film by Michel Hazanavicius, with Louis Garrel, Stacy Martin and Berenice Bejo, opens in San Francisco. We met Michel Hazanavicius and then watched the movie. Here what we have to say...
Godard Mon Amour, based on the novel ''Un an après'' by Anne Wiazemsky, was presented at the San Francisco International Film Festival. That is when we met Michel Hazanavicius for an interview.
Then, watching the movie, was like discovering an exhibition at a pres preview, guided by the curator him(her)self.
The story briefly...
Paris 1967. Jean-Luc Godard, the leading filmmaker of his generation, is shooting La Chinoise with the woman he loves, Anne Wiazemsky, 20 years his junior. They are happy, attractive, in love. They marry. But the film's reception unleashes a profound self-examination in Jean-Luc. The events of May '68 will amplify this process, and the crisis that shakes the filmmaker. Deep-rooted conflicts and misunderstandings will change him irrevocably. Revolutionary, off-the-wall, destructive, brilliant, he will pursue his choices and his beliefs to the breaking point...
The trailer...
Godard mon Amour is not a tribute to Godard, not even a respectful homage to the one, considered as a God, at least as a landmark when it comes to cinema and film making.
Michel Hazanvicius had told Anne Wiazemsky he wanted to make it a comedy and that is what convinced her. In the end, that is exactly what makes Godard accessible and human.
Louis Garrel and Stacy Martin perfectly embody this ephemeral couple whose love story changed so much in barely a year.
Godard Mon Amour is a respectfully irreverent movie, a love story, the story of a ''regular'' guy, with his contradictions, prides, weaknesses and mistakes.
GODARD MON AMOUR (Le Redoutable)
By Michel Hazanavicius
With Louis Garrel and Stacy Martin
Opens in San Francisco April 27, 2018.
In May, In Santa Cruz @ Nickelodeon Theatre
In May, In San Rafael @ California Film Institute
> Theaters and showtimes elsewhere in the US on FrenchFlicks.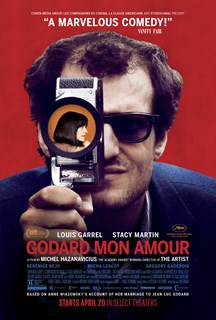 Agenda
Movie releases, Festivals & DVDs

Theatre plays, Ballet, Opera

Jazz, Rock, Pop, Symphonic & Co

Museums and Art Galleries

If you have some spare time...