June 23, 2017, 836M had gathered around a hundred of people to unveil the work achieved by Redha Medjellekh during his artistic residence at the gallery.
Julie and Sébastien Lépinard created 836M Gallery in 2015 in collaboration with Agnès Faure, all driven by their passion for art, their wish to share it and their conviction that art has the ability to bring people together and inspire a positive and innovating change.
They literally fell in love with the video Paris is kissing [4], that Redha Medjellekh had imagined, filmed and shared following the November 2015 terrorist attacks in Paris. The video met such a success on social networks, conveying its message of love and resilience.
The affinity between 836M et Redha Medjellekh seemed so obvious and natural.
Dancer, choreographer and producer, Redha Medjellekh got invited to come and sspend about a month in San Francisco as an artist in residence at the gallery 836M.
On June 23, Redha Medjellekh was there with Julie & Sébastien Lépinard and with Agnès Faure to unveil and introduce his work, here in San Francisco where his daughter Amani and grand mother Zhora accompanied him for a great artistic and human experience.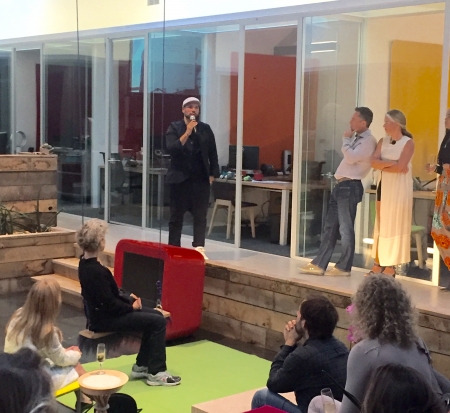 [5]
Redha explained how much he enjoyed being here in San Francisco and spending time in the city. He described his original idea and project, people he met and got to know better, what he discovered and found out compared with what he had in mind. Basically, he told us about his passion for dancing and what dance could represent, a powerful tool whose strength got even amplified through social networks.
"Thanks to dance,
barriers can be broken down, hope can be given.
With 836M, we are determined to show that
dance with a strong idea can connect people
and deliver powerful messages. "
- Redha Medjellekh
During his residence at 836M, Redha Medjellekh focused on 2 projects, one based on the Trump era in the US, and the other one directly connected to San Francisco itself.
Dancers vs Trump quotes is the first video Redha presented that evening at the gallery.
Trump's quotes and sentences... we all have them in mind. The more they were subversive, aggressive, brutal, provocative, the more we remember them. Redha met local dancers, from Ballet to Hip Hop, worked with them, interacted with them, shared his project based on a choreography he conceived and imagined. The result is absolutely striking, most probably even more for us since we spent all the campaign months and the first presidency months coping directly with tweets, where provocation is the motto.
The video Dancers vs Trump quote was shared the very same day and since then has already collected more than a million views. Take a look, and don't hesitate to share. ''Laziness is a trait in blacks'' is the first quote illustrated in the choreography.
The soundtrack by Ours Samplus [6] and their pretty cool remix of ''I'll put a spell on you'' is the perfect match for Redha's choreography.
Newsweek shared an interview of Redha Medjellekh just a few days ago and of course, his unexpected and powerful video, at the same time.
> DONALD TRUMP'S MOST OUTRAGEOUS QUOTES, PERFORMED BY DANCERS - Newsweek [7]
Afterwards, Redha unveiled his second video, he developed with the cooperation of residents of the very emblematic neighborhood of San Francisco which is the Tenderloin. His purpose was to avoid stereotypes and create something genuine and loyal to the spirit of the Tenderloin. He managed to create a meaningful collusion with the people he met there, a creative bond that seems so obvious when you see the pictures. He met them thanks to Glide whose action in the neighborhood is so important and unique. We will share once Redha and 836M will have too.
MovingMinds
The gallery will be open by appointments with photos and videos by Redha Medjellekh as well as videos of the San Francisco Dance Festival.
www.836m.org [5]