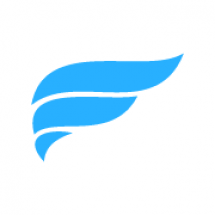 The latest start up surfing on the carsharing wave in San Francisco!
The new option for rides to & from Bay Area airports.
You necessarily have seen Lyft's pink moustaches, you should have noticed also the right rearview mirrors of Sidecar, you have heard about Uber... let's talk about Wingz.
Until recently, Wingz offered its services for SFO. You can now count on Wingz for Oakland and San Jose airports! Wingz even reached out Los Angeles where it serves LAX and Burbank.
Sharing is the leading trend in most of developing businesses. It lead to creative and inventive concepts, especially in carsharing of all kind. Wingz, founded by 3 French entrepreneurs and based in San Francisco, had to cope until recently with adverse regulations. Last September, the state Public Utilities Commission voted for new rules that create a new category for businesses like Wingz. Web-based ride-hailing companies are now part of a separate category from cabs and limousines and have to abide by adamant rules (regarding drivers backgrounds, cars inspections, insurance liabilities).
Wingz in short...

You book in advance your ''very own ride to -or from- the airport''.

[4]

You book, confirm your reseration and pay online on the website wingz.me [5]. You also specify the number of passengers (whose pick-ups can take place in different locations for the same flat rate), addresses and schedules.

For a ride from SF to SFO (and vice versa), it will cost $35, that's it, that's all. No need to hand a tip to the driver, everything was included in your online payment. For Oakland airport, from most SF neighborhood, it will be $45!
For locations outside of San Francisco, here is a link to understand how flat rates are calculated according to the distance. [6]
Anyway, with no required registration, you can check how much your ride will cost before booking it.
Simple and efficient! A new option, easy, savvy and economical for your rides to and from Bay Area's airports.
A great offer for yourself or for your friends visiting SF (surprise them and book a ride for them, they will be thankful). Spread the word!

WINGZ
Your very own ride
Visit https wingz.me [4]

[4]