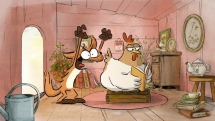 SOFIA, Northern Wind, The Big Bad Fox... 3 films among the French selection at the Mill Valley Film Festival. At LostinSF, we have always loved and supported this great event. Let's invite you!
WIN 2 TICKETS
to EACH MOVIE MENTIONED bE
@ the Mill Valley Film Festival
<<>>
2 tickets to Northern Wind on 10/11 at 6pm
2 tickets to The Big Bad Fox on 10/13 at 12:30pm
2 tickets to Sofia on 10/14 at 11:30am
To try to win, simply answer the following question...
what is the name of the director of the movie you want to see?
Email us your answer at [email protected]
Please use only one email address per person.
Specify ''THE MOVIE YOU WANT TO SEE'' as the object of your email.
Specify also your name to be transmitted to the organizers for the will call.
3 persons will be picked randomly and win each 2 tickets to see the movie they will have played for.
You can participate until Wednesday, October 10, 2018 at midnight for Northern Wind, until Thursday 11, 2018 for Sofia and The Big Bad Fox
The winners will be notified by email
Check again our fill article focusing on French movies at the MVFF this year > here [2]