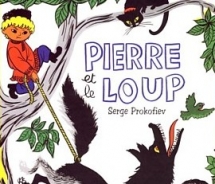 SF Symphony, December 13, 2015, 2 representations.
Peter and the wolf, and the bird, the duck, the grandfather, the hunters and the cat... are back to SF Symphony for their annual presentation.
A perfect way for our children to discover Prokofiev famous children's story and learn about the instruments of the orchestra.
... And if they would listen very carefully, they could hear the duck quacking in the wolf's belly...
The concert also includes music from Tchaikovsky's Nutcracker, Strauss' Radetsky March and a christmas carol sing-along.
Davies Symphony Hall
Half price for children 18 and under.
More:
Our selection of concerts at SF Symphony for Christmas [4]