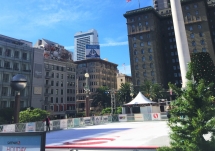 LostinSF has selected rinks to skate on, in San Francisco and the Bay area. This holiday season, enjoy skating in SF with a view onto the historic Ferry building or under the most famous SF Christmas tree.
Of course, you can ice skate all year long. But Holiday Season adds its own touch with beautiful outdoor ice rinks. And in San Francisco and around, Holiday Season starts as early as beginning of November. Let's go for 2 months of fun.
This year, here will be a great new location... at the Civic Center Plaza! Willy Bietak Productions is in charge of the project whose opening is scheduled for November 30, 2018. No need to say that the ''Winter Park'' with the City Hall as a background, will be fantastic. Pretty sure already that a bunch of wedding pictures will be taken over there!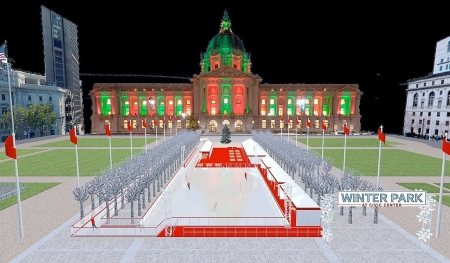 Photo (c) Willy Bietak Productions [4]
WINTER PARK AT CIVIC CENTER
Opening on November 30, 2018 -
Until January 6, 2019
!2pm to 10pm daily - 75 mn sessions
From $15 to $20 (skate rental included)
More details, here > winterparkicerinksf.com [5]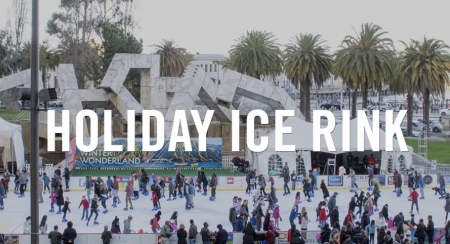 [6]
EMBARCADERO - SAN FRANCISCO
Our favorite outdoor skate rink. We love the view onto the historic Ferry Building. It's large enough for the triple axel, it's easy to park, it's affordable and...very very popular.
Enjoy the magic!
Until January 6, 2019
Open Sunday - Thursday, 10am - 9:30 pm
Friday and Saturday, 10am - 11:30 pm
Closed for private parties on several dates and sessions, check the website !
90 minute sessions starting on every even hour for $7 to $12 upon days and age, add $5 for skate rental
Justin Herman Plaza, Embarcadero Center across the Ferry Building.
More details [6]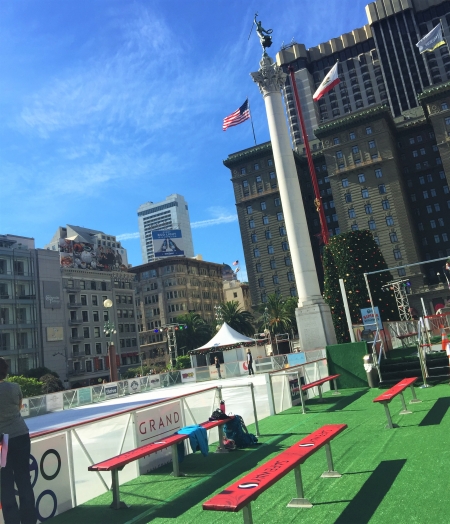 [7]
UNION SQUARE - SAN FRANCISCO
Fancy skating under the most popular Christmas tree of San Francisco? Not as big as the one on Embarcadero, a little bit more expansive, it's still a very popular ice rink, especially if your crew is tired of shopping and asks for a break! And warm up with a hot chocolate afterwards...
Open fron November 7, 2018 to January 21, 2019
Open Monday - Sunday, 10am - 11:30 pm
Closed for private parties on several dates and sessions, check the website !
90 minute sessions every even hour for $13 to $18, including skate rental.
Tip! To avoid the wait, you can purchase your tickets online.
Union Square en plein coeur du Financial District.
Check all the special events already scheduled to take place over there
> Events calendar [8]
YERBA BUENA - SAN FRANCISCO

Need private lessons to impress the crowd with a triple axel or a hockey stick? Check out the only year-round, largest and heated ice skating rink in San Francisco. You can hire a coach, get lessons, and ice skate indoor without getting frozen.
Open everyday, check the schedule for public skating [9]
Price from $8 to $12,5 (skate rental $5,5)
Yerba Buena Center, 750 Folsom Street, San Francisco
www.skatebowl.com [10]
ICE RINKS IN NORTHERN CALIFORNIA
Click here [11] to get the complete list of the ice rinks, most of them being indoor locations.
For the outdoor ice rinks, open for Holiday Season, we also know...
... the very charming one in Walnut Creek Walnut Creek on Ice [12]. [12]
... the one in San Jose, round-shaped with palmtrees as center pilars. Downtown Ice [13]
... the one in San Rafael, only by reputation, the NorCal Ice [14]. The marinmomnies [15] always recommend it. We can trust them. They are the experts.
... in Alameda, we already knew and enjoyed the view, the kite, the flea market... this year, The Little Ice RInk should re-open but there is no opening date announced so far. We will check again.