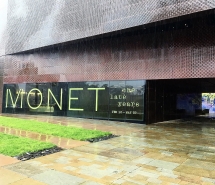 The de Young Museum invites you to come and discover its new exhibition Monet, the Late Years, starting February 16 and until May 27, 2019.
The de Young Museum is bringing Giverny, the Nympheas, the Water lilies, the willow trees... to the Golden Gate Park.
This brand new stunning exhibition is the sequel to Monet, the Early Years, that was presented by the Legion of Honors, 2 years ago, in 2017, at the exact same time of the year.
This splendid first exhibition focused - as its title says it - on Monet's early years. The selection gathered works completed betwenn 1858 (Monet was barely 18!) and 1872. He was not celebrated yet nor famous, but his style already asserted itself, his art, his landscapes, his portraits showed an outstanding maturity and a unique mastery.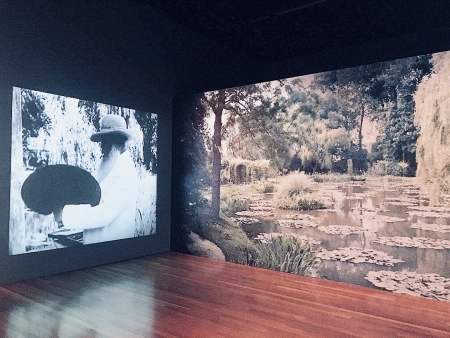 The new exhibition at the de Young Monet, the Late Years is focusing on the Monet's side that we most probably know the best.
'' 1913-1926 is the period when the artist, his life marked by personal loss, deteriorating eyesight, and the threat of surrounding war, remained close to home to paint the varied elements of his garden at Giverny. His worsening vision and a new ambition to paint on a large scale stimulated fundamental changes in the tonality and intensity of his palette, toward vivid color combinations and broader, more apparent, application of paint. The complex surfaces of his canvases reveal layers of activity spread out over the course of days, months, and years. The result was a remarkable new body of work with increasingly feverish, dramatic brushwork. Far removed from his earlier, more representational production, the artist's late paintings close in on a stylistic threshold into abstraction.
By his final years, Monet's cataracts had affected the tonal balance of his perception. Nonetheless, as seen in Path under the Rose Arches and The Artist's House Seen from the Rose Garden, both on loan from the Musée Marmottan Monet, the artist triumphed over this adversity by producing his most radical works yet. The expressive style of these paintings, with a complex layering of gestural strokes in red and yellow hues over blue and green, affirms Monet's continued vitality as a painter and redefines him, in the near abandonment of subject matter in favor of increasingly rapturous execution, as a pioneer of abstraction.''
Monet, the Late Years
@ the de Young Museum
February 16 - May 27, 2019
>> More info [2]
Related Articles

Monet, The Early Years @ the Legion of Honor
>> Claude Monet before Impressionnism [3]

Gauguin, a Spiritual Journey @ the De Young Museum
>> At the de Young, an exhibition that says a lot about Gauguin [4]