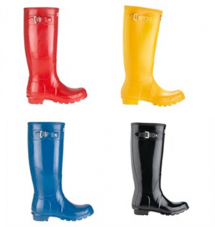 Wearing rubber boots can be hip! Thanks to HUNTER. The Scottish brand (founded in 1856 by an American) has achieved what nobody (at least not us) thought possible. Their "Wellington Boots" is THE accessory for rainy days! Vanity Fair, Glamour, Elle… All fashion magazines talk about it. Kate Moss and Gwyneth Paltrow are big fans. And so are we!
It is true that when they're worn in style, they're really beautiful, comfortable and timeless. The hardest part would be to choose the color, or just buy several pairs to match your different outfits. That's even more chic. Bitter chocolate, candy pink, fuchsia, graphite… or just black, matte or glossy. And for your little ones, there are also models for kids.
Right now, it's difficult (even impossible?) to found a pair of Hunter in Paris… In SF though, you find them everywhere: Bloomingdale, Nordstrom, Shoe Biz (1422 Haight Street)... And online at: zappos.com.
Don't wait for the rain!
The brand's website [3].