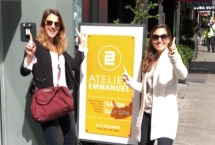 We met Karen et Géraldine when they were about to start their project. We let them tell you briefly their story, their plan, their fashion, theur style... and especially their private sale on May 9, at Atelier Emmanuel.
At LostinSF, we love fashion and we love ''re-loved'' fashion. Second hand applied to fashion is so creative and environmental friendly. #doubleeffect
We shared a few months ago our best addresses in San Francisco for thrift, vintage and second hand [3]. We will definitely update it with Les Parisiennes and their very personal French flair.
PRIVATE SALE
LES PARISIENNES
Wednesday, May 9, 2018
6pm - 9:30pm
@ Atelier Emmanuel
> Register here [4]
[4]
> Register here [4]
Here is what Karen and Géraldine told us...
1/ Who are you ?
Karen... I'm a Parisian, I have worked 6 years for the CHANEL group, in Marketing cosmetic. I arrived in San Francisco 4 years ago, today I am the mother of a 2 year old boy, Tom.
Géraldine... I'm from Belgium, am the mother of 2 boys, Largo, 3 and Oliver, 1. For 7 years, I have worked for my own Interior Designer company in Bruxelles, before arriving 6 months ago in SF.
Both passionated by fashion and shopping lovers, Karen and Geraldine have a "Parisian casual chic style" which they found hard to find in San Francisco.
They have decided to launch a service to make some of their favorite Parisian designers more accessible to the women of San Francisco : they give a second life to pre-loved Parisian items!!
2/ Your project? 
Les Parisiennes in SF - Casual Chic Closet is a boutique concept that sources for you the Parisian designers items from the best SF closets!
Les Parisiennes in SF offers a unique selection of pre-loved Parisian designer items : clothes, shoes, handbags and accessories, for womens and kids.
Les Parisiennes Team offers a VIP service by going directly in the seller's closets. "We select only qualitative brands that reflects our "Parisian Casual Chic" style, all in perfect condition. We take them into consignment, enter them in our database, tag them and take pictures."
With a 40% only commission (the seller gets back 60% of the price) it is a really great deal, much better than consignment stores or websites.
Do you know that the fashion industry is using more resources than the planet allows and that as much as 95% of clothes thrown away could have been re-worn or recycled? By shopping more pre-loved items, you help reduce the amount of natural resources needed to produce new garments.
That's why we have created #DressWithCare : Care for the planet (re-worn) and for the people (with the approval of the seller, we bring the non selected items to a local non-profit organization "SFSmiles" we partner with to help Women & Kids).
"It's not only about clothes, it's also about a social community network to bring together many women around Parisian fashion!!"
3/ Your favorite brands?
During our very first Les Parisiennes Pop-up Sale on May 9th 2018, you will be able to find more than 700 items from the most coveted Parisian designers at a pretty fantastic price!
For WOMEN:
Sézane, Maje, Sandro, Ba&sh, The Kooples, Comptoir des cotonniers, Claudie Pierlot, Les Petites, Vanessa Bruno, Zadig&Voltaire, Berenice, Repetto...
and also luxury brands like Chanel, Dior, Louboutin, Jimmy Choo, Louis Vuitton, Prada, Hermes, Armani… and many more!
For KIDS:
Jacadi, Bonpoint, Petit Bateau, Tartine et Chocolat, BonTon, Boutchou, CdeC, Ralph Lauren, Paul Smith, Lili Gaufrette...
4/ One anecdote?.
Our last VIP had a hard time letting go her gorgeous Louboutin. She received them as present from her fiancé, a size too big ... She never wanted to exchange the shoes but was never able to wear them either. The strengths of the memories and emotions are in our "nuggets". Our VIPs often have a string attached to their "nuggets" with which they entrust us, they have a story… Like many of our little dresses!
Huge surprise during our second appointment VIP Closet, we were skeptical about the sourcing of our articles ... And boom our 2nd VIP seller entrusts us with more than 150 articles!! We even had some difficulties to put everything in the car and close the doors!!
Of course, we donate a lot to the non-profit organisation we have a partnership with, SFSmile, who helps moms and kids. Giving them all the bags will stay in our memories.
5/ The one piece you would like to keep for yourself?
Geraldine:
I dream of keeping the the pretty fiancée famous Louboutin ;-) The red soles are so iconic, glamourous ... but I do not know if I could walk gracefully with such high heels...LOL
Karen:
I would have love to have a little girl to keep the princess set : the beautiful Repetto skirt and the Lili Gaufrette top! SUPER CUTE!
Preloved re-loved clothes is the future of fashion! Thanks a lot for your own personal touch and contribution to this great trend.
And now let's pretend we are Parisian girls in SF.
PRIVATE SALE
LES PARISIENNES
Wednesday, May 9, 2018
6pm - 9:30pm
@ Atelier Emmanuel
> Register here [4]
[4]> Register here [4]