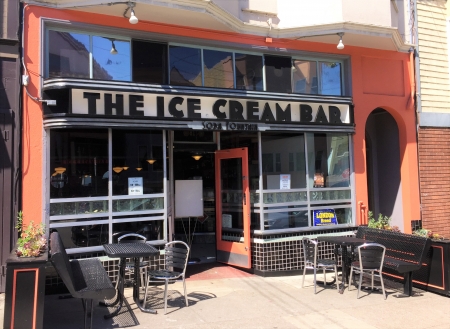 [2]The Ice Cream Bar
An Ice Cream Bar that looks like in the 30's. Soda fountains and icecreams. Everything is made and prepared in the store on Cole.
And they open rather late. Perfect spot to hang out on Cole.
815 Cole street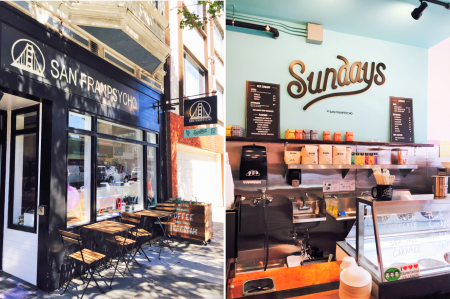 [3]
San Franpsycho
On 9th avenue, the local brand got the bright idea to open a Cafe / Ice Cream Bar, Sundays par San Franpsycho [4]. It is nice, bright, beautiful, and good with the also very local ThreeTwins [5] ice creams.
1248 9th avenue (between Lincoln and Irving)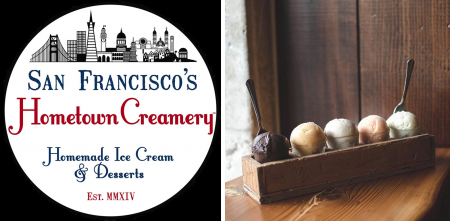 [6]
San Francisco's Hometown Creamery
Almost right next door, SFHC opened in the former Japanese Restaurant Hotei location. Everything takes place there. Honey Lemon Rosemary us a must.
1290 9th avenue
www.sfhometowncreamery.com [6]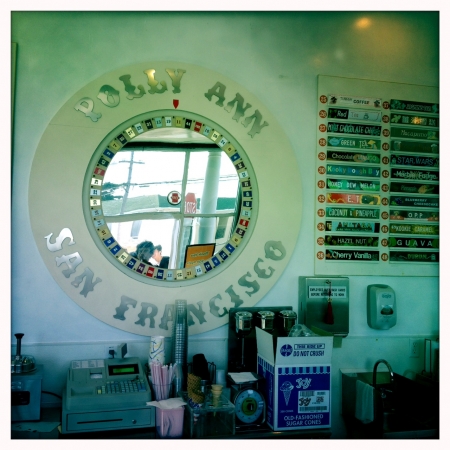 [7]
Polly Ann
Little secret for 50 years hidden in the midst of the Sunset on Noriega.You will love the wheel on the wall to help choose between dozens of flavors: Bumpy Freeway, Four C C C C, American Beauty (rose), Taro, Starwars, Blueberry Cheesecake... Obviously, you need help.
Great stop on your back from OB.
3138 Noriega Street (@ 38th avenue)
Bi-Rite Creamery.
Organic creamy ice-creams and delicious sorbets. Flavors change everyday (salted caramel and blood orange are my favorites). Enjoy while strolling in Dolores Park. Trendy place, except some wait.
3692 18th street, Mission.
550 Divisadero, Nopa
Smitten Ice Cream
Here and there in San Francisco and the Bay Area. It sounds like techno ice cream with traditional presentation. Our article. [9]
2404 California (juste a cote de Delfina)
432 Octavia
+ Oakland, Los Altos et Lafayette
smittenicecream.com [10]
Mitchell's Ice Cream.
Classic american creamy and rich ice-creams, sundaes, milkshakes... Oldschool vibe.
688 San Jose avenue, Mission.
Humphry Slocombe.
Delicious organic ice-creams you won't find anywhere else. Flavors (and their name) are very creative. What can possibly be behind "Secret breakfast" and "Jesus juice" ?
Harrison street @24th, Mission.
Swensen's Ice cream.
Right at the top of Russian Hill. A mandatory break before or after Lombard street's zigzags.
www.swensens.com [13]
Naïa
Gelateria Naia actually. In Little Italy (makes sense!) or Walnut Creek, flavors with an Italian twist (Stracciatella, Zabajone and Nocciola) and fruity sorbets.
520 Columbus Avenue (between Powell & Stockton)
1245 North Broadway, Walnut Creek
gelaterianaia.com [14]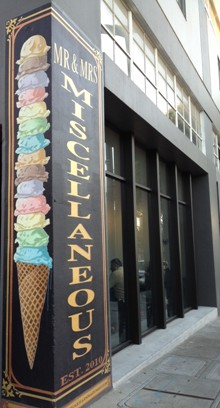 [14]
Mr. and Mrs. Miscellaneous
Top corner store in the Dogpatch. Classical and unexpected flavors.
699 22nd Street
Frozen yogurt places have multiplied these last few years. Choose your yogurt flavor, add your toppings (fresh fruits, candies, fudge...) and enjoy without feeling bad about it!
Some brands we like :
Jubili,1515 Fillmore street, NOPA.
Icebee, 829 Mission street, SOMA.
Loving Cup, 2356 Polk street, Russian Hill.
Yogorino, 2144 Chestnut street, Marina
Fraîche, 1910 Fillmore

[15]The Penny Ice Creamery
Escape the junk food from the Boardwalk (that we like a lot except for the food.) and indulge yourself we flavors that you did not even think they existed. Organic. Renewed flavors according to the seasons. Great location!
Downtown – Original Location
913 Cedar Street
Daily 12pm – 11pm
plus 2 other locations in SC.