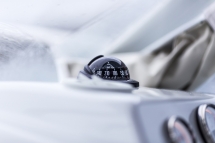 Ludo Thomasson, French American wealth manager and financial advisor in San Francisco and the Bay Area, prepared a detailed and yet simple glossary to allow you to better understand your equity compensation.
Ludo Thomasson recently made a presentation as part of the ''Meet the expert'' series organized by the French American Chamber of Commerce of San Francisco (FACCSF). The discussion was based on which strategy to choose when it comes to one's investment portfolio, retirement and charitable planning in order to make the most effective use of options.
The purpose here is not to summarize nor rephrase this presentation but to offer like a synoptic and didactic guide. For many individuals, stock options represent a significant portion of compensation and wealth. A better understanding about them is key to navigate them the most efficient way.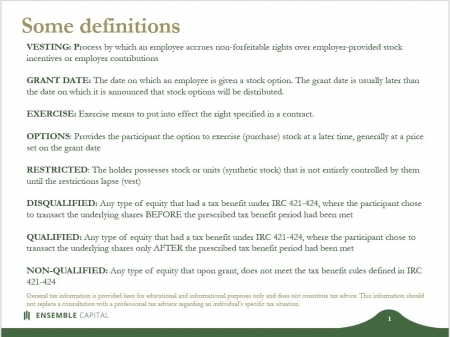 [1]
Then, let's take a closer look at concepts you'd better be familiar with, like: RSU, NQSO et ISO. Here are their detailed definitions as well as the explanation of the taxation system applied to each of them.
DEFINITITONS...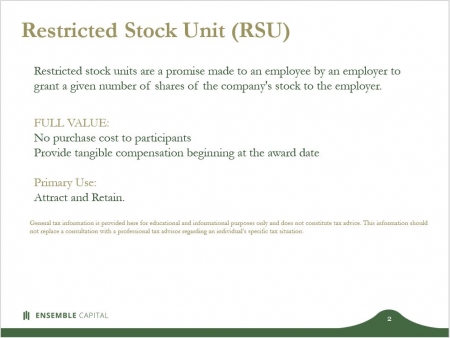 [2]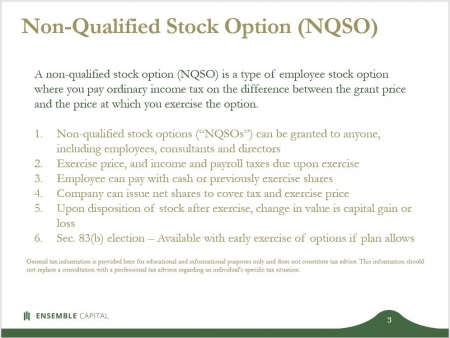 [3]
TAXATION SYSTEM APPLIED...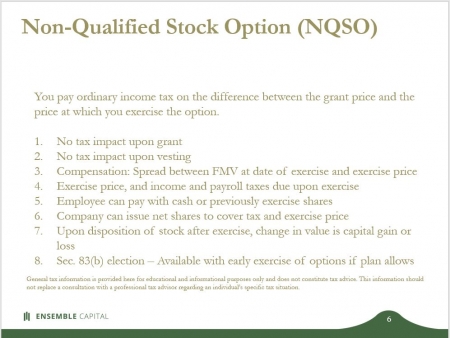 [6]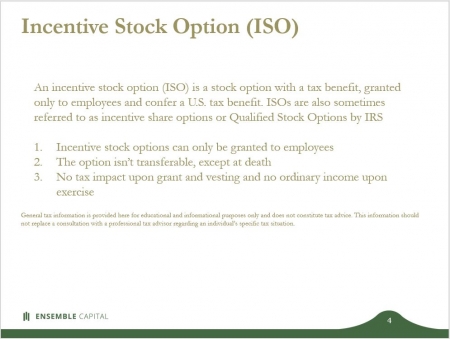 [7]
For many individuals, these definitions and explanations should definitely help understand more clearly what is at stake with their compensation package and make the most effectice use of it.
Ludo graciously offered to share the whole presentation to whom may be interested. Also, if your company includes RSUs or stock-options in its compensation packages, Ludo could come and make a similar presentation (as the one with ''Meet the Expert''.) to some of your company's employees.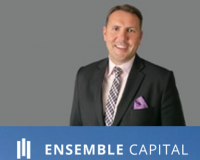 [8]
Ludo Thomasson
Partner at Ensemble Capital
1350 Bayshore Highway Suite 460
Burlingame, CA 94010