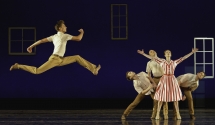 San Francisco based dance company Smuin Ballet founded by choreographer Michael Smuin in 1994 celebrates its 20th anniversary this year.
Smuin Ballet distinguishes itself for almost 20 years with choreographies where Ballet (with a capital "B") meets each and every kinds of dances. They are the result of artistic, technical and musical explorations, lead by creativity and innovation, aspiring to appeal to a broad public.
The 2013-2014 lineup includes World Premieres by Val Caniparoli and Smuin Choreographer in Residence Amy Seiwert; the Northern California premiere of Jiří Kylián's transcendent ballet Return to a Strange Land; Carmina Burana, one of Michael Smuin's most iconic works; and Smuin's playful tribute ballet Dancin' with Gershwin.
The 20th "XX" Anniversary Season, including the fall XXtremes, holiday XXmas, and spring XXcentric programs, will be presented in San Francisco, Mountain View, Walnut Creek, Livermore, and Carmel between October 2013 and June 2014.
SMUIN Ballet XXtremes
Palace of Fine Arts Theatre, San Francisco,October 4-12, 2013
Book online Smuin Ballet [2].
In Walnut Creek, Mountain View and Carmel in March 2014.
Photos (from top to bottom)
- Smuin Ballet dancers Jonathan Dummar and Jane Rehm with the men of the company (behind Rehm, l-r John Speed Orr, Jared Hunt, and Shannon Hurlburt) in Dear Miss Cline by Choreographer in Residence Amy Seiwert. Photo credit: David DeSilva.
- l-r Smuin Ballet dancers Joshua Reynolds, Jane Rehm, and Jonathan Dummar in Jirí Kylián's Return to a Strange Land. Photo credit: Keith Sutter.