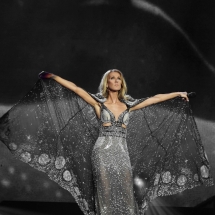 Céline, Céline Dion, the one and only, just announced a concerts tour. And since it is Céline, it had to be huge. So that will be a world tour, Courage World Tour.
Sept 27 update... 2 additional concerts have been added in the Bay, one at the Chase Center, one at the Oakland Arena.
Céline Dion is leaving Las Vegas in June. So what happens in Vegas, for once, won't stay over there. Good Bye Caesars Palace, hello world! The Canadian star just announced all at once her new album, her world tour and her being a L'Oreal ambassador. Because she's worth it.
It will start... in Canada. Where else actually? Céline and Canada... it is a love story based on loyalty. So she will perform first in Québec and then in Montreal to warm up her voice.
Then she will cross the US with a lomng series of concerts ending in a grand finale, in San Francisco, at the brand new Chase Center. In case you would not be familiar already with the name, we are talking about the new arena, the one built for the Warriors.
Phil Collins, Cher, John Mayer, the Black keys... have already announced they will perform in this venue, already cult even before open to the public.
Céline Dion's concert will take place on April 11, 2020. Yes, it is in more than a year (at least, at the time we are writing this article). But it's Céline. That makes sense. Her last World Tour was in 2008, Taking Chances. So we can wait another few months.
Céline Dion
Courage Tour
@ the Oakland Arena
On Thursday, April 9, 2020
To buy your tickets >> click here [3]
@ the Chase Center
On Friday, April 10, 2020
On Saturday, April 11, 2020
To buy your tickets >> click here [4]
First round of World Tour dates going on-sale Friday, April 12
Team Celine Ticket Pre-sale Starts Monday, April 8