Come and celebrate Make Music Day in Oakland on June 21st, 2018. The Alliance Française of Berkeley and Maison Bleue have worked together to organize a memorable event.
For years already, we tuned our Make Music Day with the Alliance Française of Berkeley sounds. Bettina Minoue, its director, has always had at heart to offer a friendly, warm and creative moment to the local French American community, with Bay Area musician and bands.
This year won't be any different ! Except that, this time, she has worked with Patrice Fayet at Maison Bleue to renew the celebration.
Come to Berkeley
to Celebrate Make Music Day organized by...
L'Alliance Française de Berkeley,
Maison Bleue [2],
EB - l'École Bilingue de Berkeley [3],
and
French Studies [5]
The line up...
The band Rue Prince [6] will perform on wednesday evening. How do they describe themselves? ''A French-infused Blues-Rock band with a twist of Jazz.'' We will add a touch of reggae here and there to add to the ''cool attitude''. We are total fans from the start, or not that far. Original songs and covers, in French and English: Brassens, Piaf, Gainsbourg, Ferrer ...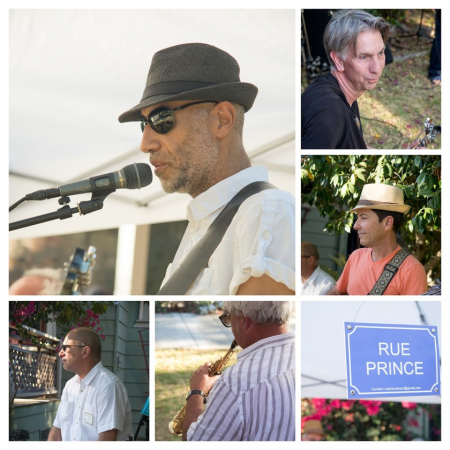 [6]
There willbe also the indie, radiohead inspired group, Jaracanda.
And Stéphane Blanchard will join Vincent to play a very French song selection.
And the menu...
Crêpes and galettes, of course, bien sûr.
But also... Merguez and Croque-Monsieurs.
To be or not to be... French. Let's be French:-)
FÊTE DE LA MUSIQUE / MAKE MUSIC DAY
Alliance Française de Berkeley and Maison Bleue
2020 Kittredge St. Berkeley, Ca 94704
Thursday, June 21, 2018
5-10pm
Free admission
Event details [7]