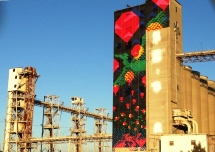 Transfiguration is part of a large Art Project
@ Port of San Francisco's Pier 92 Grain Silos
We noticed this unexpected artwork when we drove back to San Francisco via I-280. Unexpected considering the desintegrated industrial environment, the old abandoned buildings with broken windows, the partly erased messages painted here and there, the potholed roads and dead ends, that did not look like a thriving element for art.
The Port of San Francisco and the SFAC (San Francisco Arts Commission) combined theirs efforts and selected Laura Haddad and Tom Drugan's project whose realization will litterally transfigure the area.
This industrial part of the city is located to the south of Dogpatch and remained like unused and untouched for decades. The Bayview Rise art project, made out of colors, forms and light, will symbolize th gateway into Bayview Hunters Point. Visible from distance (Bernal Heights, I-280), Transfiguration will change from day to night. It is part of a wider enterprise to make waterfront areas more accessible (same trend as the one taking place around Chinese Basin and Mission Bay). Silos and buildings won't be accessible though.

We are not in the same relative range as Banksy or JR, but the project is so impressive for its scope and scale that it definitely should draw media's and general public attention to this little known and neglected area.
We hope that in the end it will be accessible to the public (even though it really does not sound like it right now!). We had the opportunity to see some pictures from inside. And it looks great with tons of graffitis and murals left by artists in transit. And we did not even mention the incredible view one would have from the top of the silos! In the meantime (that could last forever), enjoy a walk at the Heron's Head Park (now you understand the heron's representation in Transfiguration).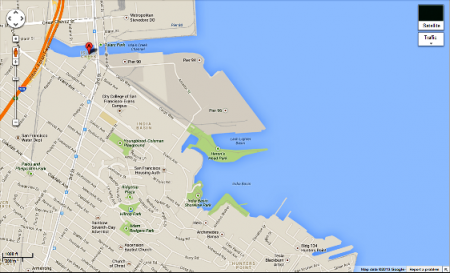 [3]
If you are interested in more information about the project, click here. [4]
Ifyou are curious, you can visit the Port of San Francisco's website. Click here. [5]