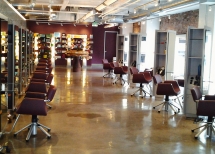 For many San Franciscans, Atelier Emmanuel is one the best hair salon in the city. We wanted to understand why, so we met Emmanuel, the owner. After just a few minutes we were already seduced by his friendly and welcoming smile.
Emmanuel is French, but this is not the only reason why French elegant women are queuing up to get their hair done in his eponymous Atelier.
With 8 years of experience in Paris, Emmanuel came to San Francisco to study English and try his luck as a … hair stylist in California. This was in 1999. A few months later, with the help of some of his most faithful clients, and his talents both artistic and technical, Emmanuel opened his first Atelier. Success was around the corner! The reasons, as he explained it to us, are very simple: Emmanuel is not specialized in one aspect of hair styling, he does everything with the same degree of perfection from hair cut and blow dry to highlights and color. His team, that he is constantly training, teaching and inspiring, is renowned for the same professionalism.
At Atelier Emmanuel, you are welcomed with a smile, a cup of coffee or a glass of water; you are listened to and well taken care of. This is the essence of Atelier Emmanuel « style ». « We make everything to satisfy our client ».
In its new spacious and luminous location on Stockton Street, Atelier Emmanuel is now offering day spa services in an outstanding environment.
Open 7 day a week (yes you heard me, Sunday included!), Emmanuel devotes one of his day each week to train his team. Every Monday, from 10am to 5pm, you are welcome to book an appointment with one of the apprentices. It will take you more time (double the time of each service) but less money ($16 for a cut+style, $26 for a color) and every step of your hair do will be supervised by Emmanuel himself! What a steal!
Atelier Emmanuel
415 Stockton, 4th floor
San Francisco, CA 94108
Open every day
Photo courtesy of Atelier Emmanuel