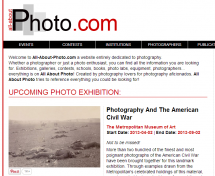 AllAboutPhoto is a new website entirely dedicated to photography launched in San Francisco by a French photolover and photographer.
Besides photo exhibitions in Bay Area museums and galleries, Allaboutphoto covers all the events related to photography in the United States. Much more than a cultural agenda, it is a source of information for photo lovers and aficionados about photo contests, schools, books, photo labs, equipment, photographers...
We met Sandrine and asked her a few questions…
Why did you create All about Photo?
I am a French photographer and when I moved to the United States I didn't know where to find the information I needed to start all over. Photo labs, galleries, agents… it took me a while to find what I was looking for.
It appeared to me that a website with all this information could be useful for others and as I have a talented husband who creates websites we decided to try this adventure together.
Where does your passion for photography come from?
I got my first camera when I was two and since then I never stopped taking pictures. It is probably buried in my genes somewhere…
What are your favorite galleries in SF?
Rayko Photo Center was the first gallery to believe in me and show my work. They have great exhibitions and a photo lab that I use all the time (film and digital). Otherwise all the 49 Geary Street galleries are a must.
What are the major exhibitions right now in SF?
There are a lot… But if I had to choose three I would say: Garry Winogrand [3]at SFMOMA, Gordon Parks at the Jenkins Johnson Gallery and About Faces [4]at Pier 24.
Your favorite photographers?
The list is really long and it gets even longer with all the wonderful portfolios I come across. If I had to choose only two I would probably say Sebastiao Salgado [5] and Sarah Moon [6].
AllAboutPhoto sur Facebook [8]