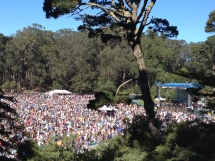 Free concerts at the Golden Gate Park.
3 days of live music, 7 outdoor stages, more than 90 musical artists and thousands of visitors expected for the 18th edition of the event-festival @ the GGP!
Basically, what you should know about the festival and its (hi)story...
1st edition took place back in 2001. Since its debuts, the festival was subsidized by Warren Hellman, SF philanthropist investor. At the beginnning, the festival was supposed to gather only Bluegrass musicians. But since 2004, it expanded its array and went with humour from Strictly to Hardly Strictly.
Bluegrass music is a form of American roots music, subgenre of country music, mixing a Scottish, Irish, English and Welsh influence (from immigrants) and an African-American one through the integration of jazz elements. Banjos, fiddles, mandolins, upright basses... on stage, impros and creasy rythms altogether.
Now, what you should know for this coming week end...
The festival is definitely kids-family friendly. Despite the crowd that is expected, it is for sure a nice, interesting, funny walk through the GGP to take.
Ride (your bike) and then walk… here are our best pieces of advise to reach the place and then to circulate. Bikes parking lots are so impressive and creative!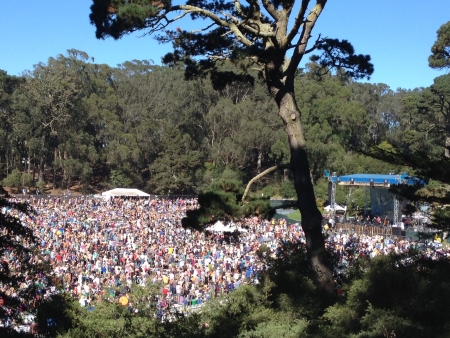 [2]
If you feel kind of lost in the Golden Gate Park and can't remember where are different meadows... simply Download the app [3] that will be your guide from stage to stage.
What about the line-up and schedules for the 3 day Festival...
5 stages on Friday and then 6 ones here and there in the Golden Gate Park. Except if you are a total addicted fan, it is not that easy to choose among all the artists performing at the festival.
Anyway, to enjoy the moment, just follow your instinct or randomly take a walk and a stop wherever you feel like it.
Line up, schedules and locations... click here. [4]
We wish you a great week end with the so very SF Hardly Strictly Bluegrass where all styles of people meet.
As a friendly reminder... Bike street parking is fine. Tree parking is not.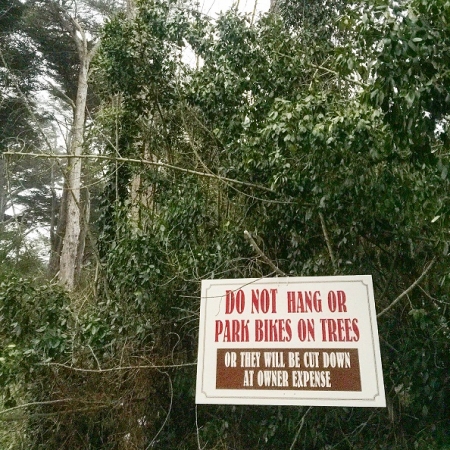 [5]