PILATES STORY, A BRAND NEW PILATES STUDIO IN WEST PORTAL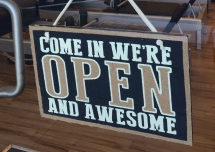 Pilates Story, a brand new classical Pilates studio, has opened it's door at 183 West Portal Avenue. We met with Hélène and Hye-yeon who partnered in this (ad)venture.
Pilates, everyone is talking about it, and yet we were not convinced. Now, we are!
With this meeting / interview, we are going to tell you ...
... the story of Hélène in San Francisco
... the story/history of Pilates,
a completely unexpected story,
with incredible twists and turns.
... the story of our first experience with a Morning Routine
... and then if anything, we will make you tell your own story.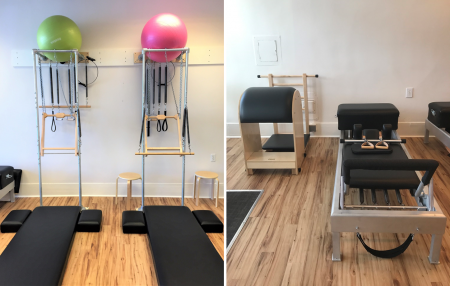 We found out that Pilates is practiced on equipments with scary names (Reformer, Tower, Cadillac), or on a mat, with or without accessories, it is for women and men, it is a question of core strength but also balance, flexibility, control, concentration and it is almost a philosophy, that breathing is at the heart of everything (we could have suspected it, but we tend to forget it), that all levels are welcome and that it's promoting your inner balance and well-being.
Pilates' motto could be ''Know yourself'' and it will make you stronger.
Check out the Pilates Story studio on West Portal. This place is brand new, very clear, warm and welcoming. It is true that the equipments and accessories can give you a little feeling of a torture room, completely in opposition to the feeling of wellbeing that will be yours after a session.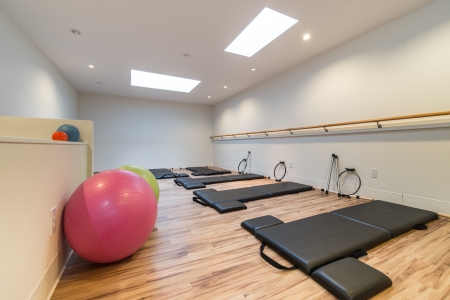 You should be conquered by Hélène's enthusiasm, her LENA program for women wishing to strengthening their pelvic floor, their professionalism, their complicity with Hye-yeon, the choice of courses from Morning Routine to group classes, by private or semi-private sessions, and finally by the spirit of the place.
May Pilates be with you!
Hélène, can you tell us your story from Paris, your experience and your arrival at SF?
Hélène: Originally from the North of France, I grew up in a Parisian suburb, studied computer science in Grenoble, launched my first business when I was living in the South. I add my first experience of expatriation in San Diego. After 2 years, my husband and I moved back to France, but in reality to better leave back... this time in San Francisco.
I arrived with a very specific idea, I wanted to help women with pelvicfloor issue after having a baby (even late). In the United States, this practice is very little known despite its essential character. France has an entirely different perspective. Pelvic floor muscle strengthening is considered preventative care that saves medical costs in the long run.
So I took a De Gasquet course, hypopressive breath training and a classic Pilates training. I designed a program (Lena) focusing on empowering women in all ages to get their body confidence back by making them workout from toe to head.
The direct benefits are a better breathing, a belly shrink, improve the posture/alignment, and increase the abdominal pelvic floor synergy work.
Tell us the story of Pilates Story: your formation, the name, the place, the common project with your partner ...
I attended the 18-month training program offered by The Pilates Center (Boulder) in San Francisco. Classical and serious, this training is mostly recognized worldwide.
I met Hye-yeon Park during this program, my amazing business partner. She was my advisor and we immediately hung up. Hye-yeon has been a Pilates teacher for 10 years and is an incredible instructor. She is attentive, concerned and above all incredibly professional.
She often talked to me about her desire to start her own studio. It was around a coffee in a starbuck that we decided to create our studio together. The name of our studio is a reflection on the fact that our body, silhouette, strength but also problems, tensions are developping throughout the story of our life: our job, sport, children, an accident. And as a teacher, when we work with someone, the body tells us its story. A good Pilates teacher must know how to listen, look and adapt to the story of the client.
Focus on Pilates: a small history of Pilates and about what people could expect.
Speaking of story, Joseph Pilates has his own. He was a German, born in 1883. As a child he was small and sick, suffering from asthma, rickets and rheumatic fever. He was continually bullied by other kids. He quickly became determined to overcome his physical disadvantages. His response to his problems has been to design a unique series of vigorous physical exercises that help to correct muscle imbalances and improve posture, coordination, balance, strength and flexibility, as well as to increase breathing capacity and organs function.
He also invented a variety of machines, based on the strength and assistance of springs, which could be used to perform these exercises. In 1926, Hitler proposed to Joseph Pilates to train the German secret police. At this point in history, Pilates decided to emigrate to the United States. He met his future wife and his pedagogical partner, Clara, on the boat heading to New York. Together they opened the first Body Contrology Studio on Eighth Avenue, 56th Street in Manhattan, in the same building as several dance studios. Pilates had called his method Contrology, control of body, mind and spirit. The story of Pilates shows us that his method is for everyone. It relieves tension, stress, improves posture, balance and flexibility, and improves the functioning of the nervous system.
In few words, here is how it works:
Your spine will be decompressed
This will allow your posture to improve
So your breathing and your circulation will improve.
Your endurance and flexibility will increase.
Your muscles and joints will become stronger.
Your mind-body connection and your awareness will be increased
So you will be able to control your body and movements.
This will help you prevent from injury
Finally, your mini address book in SF...
Café: La promenade on Balboa Street @ 38th. An ambiance of Parisian coffee where you can work and even listen to live bands.
Shop: I do not shop, I'm always dressed in sportswear :(
Restaurant: I did not find a place I loved, but there is a small pizzeria Pizzetta 211, in outer Richmond, that is a little paradise for thin crust and craft pizza.
Walk: My favorite: the Lands end trail.
PILATES STORY
183 West Portal Avenue
Agenda
Movie releases, Festivals & DVDs

Theatre plays, Ballet, Opera

Jazz, Rock, Pop, Symphonic & Co

Museums and Art Galleries

If you have some spare time...