ONLINE AUCTIONS FOR LA SOIREE ARE NOW OPEN... PLACE YOUR BIDS!
The online auctions for La Soiree are now open! Place your bids until November 20, 2017 and contribute to the FACCSF annual fundraiser that will support NAPA & SONOMA.

If you are not familiar with the concept yet, you should know that the auctions represent a very active, dynamic and efficient part of the fundraising.
Enjoy, take your chance (sometimes that's all it is about!), pick the items that you really like, be gourmet, be tempted, be elegant, be athletic, go to a movie, cook, learn how to cook, book an amazing trip, escape SF (and come back)...
The French American Chamber of Commerce de San Francisco opened its online auctions, with items offered by its members or sponsors. You buy them by placing your bids and overbidding when you really want them. The profits, as always, will widely contribute to the fundraising campaign for the FACCSF and this, help finance direct help and support to Napa and Sonoma.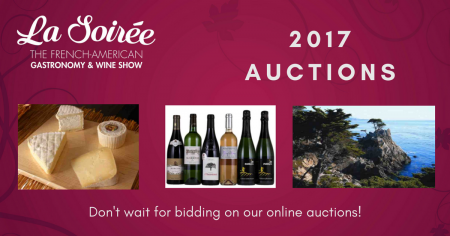 For the online auctions, click here.
Find below the list of all the donors who generously answered the FACCSF request and contribute to the online auctions for LA SOIREE.
Thank you so much to each and all of them !
Café Bastille - San Francisco
Rêve Bistro - A little Paris in the hood - Lafayette
Park Tavern - San Francisco
Golf @ Little River (near Mendocino) by Little River Inn
Visite guidée par San Francisco by Gilles
Les Gourmands Bakery - San Francisco
Sonoma International Film Festival
Alexia Cornu - French Personal Trainer
Calissons by Gilles
La Fromagerie - San Francisco
Cuisinett - French Comfort Food
Le Central - French Bistro San Francisco
Piperade - West Coast Bask Cuisine - San Francisco
Resort Vacation Certificate by Endless Vacation Rentals
Wine selection by Peloton Imports
French Charcuterie by Fabrique Délices
PJ Grace - Futurcosmetic French Skincare
Adventure Cat Sailing Charters
Consulat Général de France à San Francisco - Diner avec Monsieur le Consul Général Emmanuel Lebrun-Damiens
Seeds of Happiness - Hypnotherapy session
Jacki Easlick bags
Atelier Francesca - Handcrafted in SF Bay Area
Louis Latour Inc Wines
La Toque -Napa
Octamedia A multimedia production comapny
Monsieur Benjamin - San Francisco
Towers tours - San Francisco Premier's Sightseeing Company
Incredible Adventures - Green Tour Company
Octopus by JOY
Trois Petits Cochons - Three Little Pigs Pâté & Charcuterie
L'esprit San Francisco - Visite guidée
Barbara Meyer - Executive coaching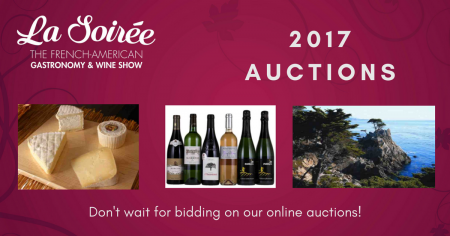 For the online auctions, click here.
Agenda
Movie releases, Festivals & DVDs

Theatre plays, Ballet, Opera

Jazz, Rock, Pop, Symphonic & Co

Museums and Art Galleries

If you have some spare time...