ONCE UPON A TOWN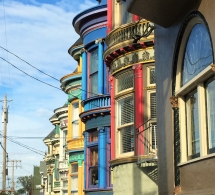 Partner article: Once Upon a Town, a new relocation services company, to help you write the first sentences of your own SF story. Once you found your neighborhood, now you have to find a home.
We encourage you to discover Once Upon a Town, that offers a wide range of personalized services to help you make San Francisco your new home.
You just moved to San Francisco, you are new in town, it's your first expatriation or you have already experienced a couple of them... Anyhow, it does not matter. A new move kind of always follows the same patterns: the stress or even the anxiety facing an unknown environment, the vertigo (to use a local term) when one thinks of the task to carry out, an uncomfortable moment of loneliness, this awkward feeling of vulnerability in a place you have not made your own yet.
Inevitably, the first question that everyone has in mind...
Where are we going to live?
The second, as ovious as the 1st one...
How to find a home in San Francisco
in current circumstance?
Rules are different.
All of a sudden, it's like moving towards a terra incognita,
overwhelmed with a galore of questions
which Once Upon a Town
will help you to answer.
Once Upon a Town goes beyond a typical San Francisco relocation service, offering a personalized approach to help you and accompany you in your decision process as friends would do.
Where are we going to live?
To answer this first question, Once Upon a Town's team, invites you to an AREA TOUR. Before finding a home, looking for a school, before even settling in, you will discover the different aspects of the city and see which ones work best for you (...) Read further
How to find a home in San Francisco
in current circumstance?
For this 2nd step, Once Upon a Town offers a HOME FINDING service whose purpose and ambition are to assist you during the whole home-findind process.
Basically, you can count on Once Upon a Town's team to...

Help you gather all the required documentation: completed rental application, job offer letter or pay stubs, financial statements...

Provide you with a selection of properties that better match your criteria.

Plan a 2-day itinerary, which will include viewing an average of 20 properties in total.

Assist you with both the lease application and the rental lease contract.
Once Upon a Town will be of a precious help to filter the ads, to select the visits that are worth a look, to anticipate flaws that you would not guess in the first place, to have the contracts come under their scrutiny.

The fog can't be the one and only criteria to choose your new neighborhood! That, we already told you! Stéphanie, Marguerite and Maria, the founding team behind Once Upon a Town, offer you a local and experienced perspective, a smooth approach and connection to your new city.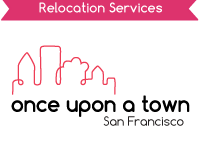 Once Upon a Town
Welcome to San Francisco
TOGETHER WE WILL MAKE IT
YOUR NEW HOME
Agenda
Movie releases, Festivals & DVDs

Theatre plays, Ballet, Opera

Jazz, Rock, Pop, Symphonic & Co

Museums and Art Galleries

If you have some spare time...