OFF THE GRID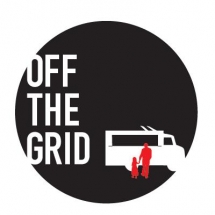 Making Street Food happen… All the time.
Off the Grid is famous for its ''outdoor food-courts'' like Upper Haight (same location as the Farmers Market) on Thursdays and Fort Mason Center on Fridays.
Off the Grid is gathering more than 50 vendors-caterers including… The crème brûlée Man, Kara's Cupcakes, Blue Bottle Coffee, Namu… and many others. Check the list.
Off the Grid organizes 12 weekly events including the one at the end of Haight Street and Fort Mason Center on Fridays (which is the one gathering the most of food trucks). You make your choice among all the vendors, and tables and chairs are displayed sothat you can enjoy your meal. It is colorful (trucks got sometimes turned into real art pieces), friendly and you can taste flavors from all over the world. Events calendar

Fridays @ Fort Mason (5-10pm) grew and attracted more and more people in the last few months: still more than 30 trucks, carts and even tents, a full bar run by Magnolia Brewery and also live music starting around 6pm.
OTG Fort Mason took a winter break and is back on March 6 a bit ahead of time with Spring.
With Off the Grid, you can also book one the ''mobile'' caterers for a private event. The traditional catering concept is renewed with the food truck coming to your party. Click here to make a reservation.
At last, at lunch time, go and check the map where the different vendors are positioned (map is updated daily) and choose one in your neighborhood. Enjoy your lunch break! Vendors map
Streetfood... it is not only about hot dogs and pretzels (even though they might be super good!). Off the grid offers a wide choice of culinary styles, ''fast... and yet qualitative and diversified outdoor" food.
More info about Off the grid.
Agenda
Movie releases, Festivals & DVDs

Theatre plays, Ballet, Opera

Jazz, Rock, Pop, Symphonic & Co

Museums and Art Galleries

If you have some spare time...