Non Fiction by French director Olivier Assayas, with Guillaume Canet and Juliette Binoche, opens in SF and the Bay Area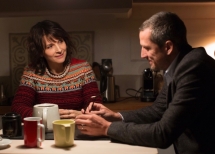 Olivier Assayas directed Guillaume Canet and Juliette Binoche, in his latest film, a comedy, Non Fiction.
Non-Fiction premiered a few months ago at the Mill Valley Film Festival. The French comedy has been programed in SF, Berkeley, Oakland and San Rafael.
Non Fiction is a very French, very Parisian comedy, with dialogs mixing humor, derision and irony, depicting the publishing world at a time of deep and destabilizing changes.
The story briefly...
Set in the Parisian publishing world, an editor and an author find themselves in over their heads, as they cope with a middle-age crisis, the changing industry and their wives.
0
The trailer...
DOUBLE VIES (NON-FICTION)
With Juliette Binoche and Guillaume Canet
Opens in SF and the Bay Area on May 24, 2019
Agenda
Movie releases, Festivals & DVDs

Theatre plays, Ballet, Opera

Jazz, Rock, Pop, Symphonic & Co

Museums and Art Galleries

If you have some spare time...