IZAKAIA SOZAI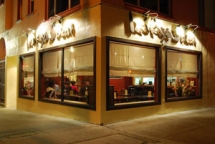 Un peu de Japantown dans l'Inner Sunset…
Un restaurant japonais, mais pas pour y chercher des sushis. Au menu, tapas japonais (une fois que vous y serez allés, vous comprendrez à quel point le concept est pertinent), quelques sashimis sous forme de carpaccios exotiques qui nous en feraient presque oublier celui de bœuf/parmesan/roquette des terrasses parisiennes, des ramens aussi, et des yakitoris délicieux.
Alors, petit cours de japonais pour s'instruire…
Udon… Nouilles japonaises
Yakitori… Brochettes / Poulet grillé
Ramen… Mets japonais constitué de pâtes dans un bouillon à base de poisson ou de viande et souvent assaisonné au miso ou à la sauce soja.
Yako… Pouple, octopus en anglais (mais aussi cerf-volant, mais ça n'a vraiment rien à voir!)
Buta… Cochon
Uni… Oursin ou encore Sea urchin en anglais.
Avec ça, vous ne vous débrouillerez pas à Tokyo, mais un peu mieux sur le menu du restaurant.
Izakaya Sozai est définitivement une jolie découverte avec des saveurs inattendues, un cadre simple et cosy (Izakaia signifie bar/pub…), et des prix raisonnables!
Izakaya Sozai
1500 Irving Street (@16th avenue)
(415) 742 5122
$$$$$
Agenda
Movie releases, Festivals & DVDs

Theatre plays, Ballet, Opera

Jazz, Rock, Pop, Symphonic & Co

Museums and Art Galleries

If you have some spare time...