Faites-vous une beauté chez Cinta Salon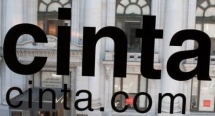 Situé sur Grant avenue, près d'Union Square, Cinta Salon est un salon de beauté idéal pour celles qui veulent changer, essayer, dépenser, se faire belles, se faire dorloter... L'ambiance spacieuse style loft du lieu est très agréable et les soins pratiqués sont professionnels et largement plébiscités.
Côté coiffeur : Agnès, une de nos internautes assidues recommande Irina pour la coiffure (environ $100) et Jackie pour la couleur (environ $85). Et côté beauté, vous devez absolument essayer le threading. C'est une ancienne technique d'épilation avec un fil très fin en coton, très répandue dans les Pays Arabes, en Inde ou encore en Perse. Il semble qu'à SF, Cinta Salon soit un des rares salons ayant pignon sur rue à proposer cette méthode. Pour le threading des sourcils, demandez Hanna (autour de $30).

Cinta Salon
23 Grant Avenue, 2nd Floor, 415 989 1000
Agenda
Movie releases, Festivals & DVDs

Theatre plays, Ballet, Opera

Jazz, Rock, Pop, Symphonic & Co

Museums and Art Galleries

If you have some spare time...