NEWTREE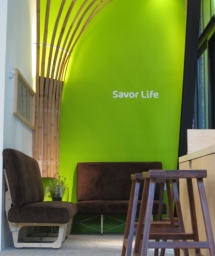 The one (and only so far) Newtree Store opened in the Financial District a few months ago. A Café, a chocolate heaven, a urban oasis and a concept store. Let's take a closer look!
Newtree was founded in 2001, by Benoît de Bruyn. With his background as a chemist, Benoît studied and investigated savors on a molecular side. He could have worked in the field of wine. He picked chocolate instead. The story took place in Belgium, that makes sense!
The brand's spirit and philosophy: a well being quest through savors and flavors enhanced with natural ingredients.

At the beginning, Newtree offered 5 different chocolates: Black, Milk, Lavender, Ginger and Blackcurrant. Newtree's very own style was launched! Since then, Newtree has grown, and is now available on the French market as well as in the US. The range expanded to 15 recipes. Some of them sound like very creative and innovative like the Quinoa Flax, the Lime Granola or the Superfruit. Benoît's favorite ones would be Lavender and Superfruit, while Jehanne (his wife) would rather go for the Quinoa or the Belgian Biscuit (speculoos are so good!). And you?
Newtree's products are available at Whole Foods, Andronicos, Mollie Stone, Raley's. Go and take a look (and possibly ask for them). You can also play some blind test games in some of you favorite restaurants. A bunch of them now use Newtree's chocolates to concoct their delicous dessert treats. Enjoy!
But let's get to the point, which is the Newtree Store.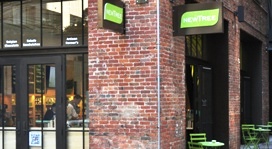 The store is really gorgeous. And even if we are in a chocolate's realm, we are entering a Café!

The store was conceived according to the Newtree's philosophy: it is 100% natural, from the paved floor to the ceiling including the seats fabrics or the bamboo used for most of the furnitures.

The place is bright and opens to the exterior where some chairs and tables have been set for the sunny days. For the food, you will indulge yourself (and take care of your well being) with all the chocolate specialties: hot chocolate with almond milk, the lavender mousse, the chocolate dipped speculoos, the mi-cuit, the brie and chocolate sandwich (intriguing!)... Newtree could become your coffee break stop in the morning (you won't be able to resist the wafles!) but also your lunch break spot thanks to their choice of salads, sandwiches and soups. And be sure that organic ingredients, sustainability and respect for fairtrade rules are inherent to Newtree.
Newtree, it is also kind of a concept store with a nice selection of items that fit totally the environmental friendly spirit of the place. We liked the Iphone tree: go and take a look by yourself.
Let's finish with a number... 300. Like the 300 kilometers of chocolate bars sold by Newtree last year. 300 kms, it is also the distance between Paris and Brussels!
We wish Newtree to reach a Paris - San Francisco in a very near future!

Newtree Store
1 Ecker Place
Ouvert du lundi au vendredi / 7am – 5 :30pm
Agenda
Movie releases, Festivals & DVDs

Theatre plays, Ballet, Opera

Jazz, Rock, Pop, Symphonic & Co

Museums and Art Galleries

If you have some spare time...