NEW MISSION THEATER OPENS WITH STAR WARS RELEASE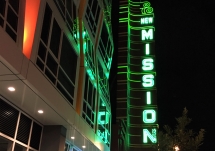 Brand new, refurbished New Mission Theater opens right on time to match Star Wars release.
It is not that often we can celebrate the opening of a new movie theater, espectally in the heart of the city. This gem from the 20's with such an Art Deco chic, presented its last screeningback in 1993. Since then, it has been added among the SF Landmarks (That was in 2004. #245. Check the whole list here.) It will awaken with the Force on December 17, 2015.
Take a look at the article on SFGate, and you will understand how a $10 million restoration should bring back to life a gorgeous theater. Check also these pictures from the past on www.friendsof1800.org. It is going to be superb!
Simple and yet pretty effective concept: 5 screens and a unique, global experience all at once, ''dinner, drinks, movies and events''. They will be equipped with ''Sony's revolutionary 515DS dual-4K projectors''. We have no idea what it means exactly. But it definitely sounds perfect, especially for Star Wars screenings.
And good news for families... There will be kids friendly events and parties.
If you never heard of Drafthouse, the Austin based brand, check all their detailed concept and offer by clicking here.
Most probably the best place to discover the new Star Wars whose title matchs perfectly the occasion. Check the calendar to book your tickets.
Of course, may the force be with the New Mission Theater! That was easy, most probably too easy... anyhow, we had to sat it. #welovecinema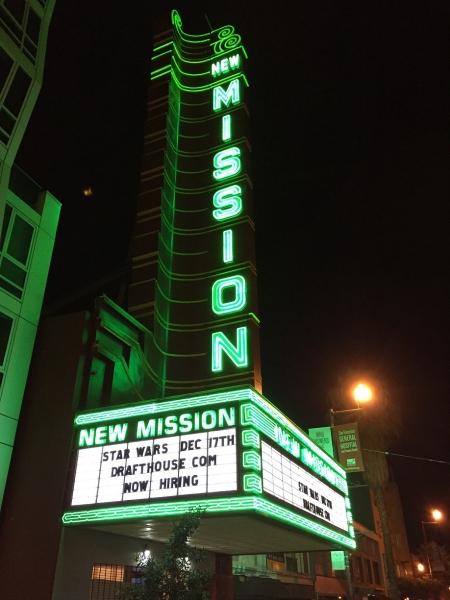 NEW MISSION THEATER
2550 Mission Street
Grand Opening December 17, 2015
Agenda
Movie releases, Festivals & DVDs

Theatre plays, Ballet, Opera

Jazz, Rock, Pop, Symphonic & Co

Museums and Art Galleries

If you have some spare time...