NAMU GAJI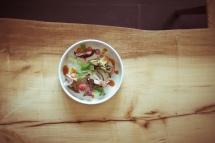 Just opened in the Mission.
We already knew Namu on Balboa, in the Inner Richmond and loved it. It has now closed. But Long live Namu Gaji on Dolores!
The Lee brothers, the 3Ds, Dennis, David and Daniel, shuttered Namu to make way for their new pursuit, and just opened Namu Gaji at 499 Dolores St. on April 11.
The idea is to go on with the same style and spirit: Korean-inflected food, cool intimate design and warm hospitality. Namu Gaji means tree branch... It's all about renewed continuity.
Namu Gaji will serve dinner nightly beginning at 6pm. The bar with happy hour specials opens at 4pm, and beginning at 11am, a take-out window will offer Asian-style street food, including the Real Korean Taco, which has earned them a loyal following at the Ferry Plaza Farmers Market.
At Namu Gaji, they developed a warm sense of community through an intimate dining room with two counters – one facing 18th St. and one facing the open kitchen - and a large communal table. An adjacent room is available for large groups. All three Lee brothers: Dennis at the stove, David in the dining room and Daniel as an occasional presence, bring a shared tradition of hospitality. This nice and friendly atmosphere is even enhanced by the design and the subtle choice of materials.
We have not tried Namu Gaji yet, but we had such a tremendous experience with Namu on Balboa that we wanted to inform you about this new venture as soon as it opened. Don't hesitate to tell us about your experience. We will get back to you with ours very soon.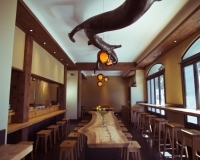 Namu Gaji
499 Dolores Street @ 18th Street
Agenda
Movie releases, Festivals & DVDs

Theatre plays, Ballet, Opera

Jazz, Rock, Pop, Symphonic & Co

Museums and Art Galleries

If you have some spare time...