MOVIES AT THE ALLIANCE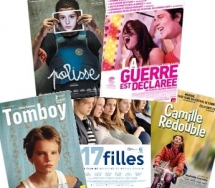 Alliance Française de San Francisco
Every tuesday @ 7pm.
Tuesday night movie at the Alliance Française de San Francisco: a way to meet people, who love cinema, to talk with them, to share opinions and thoughts about topics developped and exposed in the movies in a cosy and friendly cineclub atmosphere.

Arrive @ 6:45pm for a short presentation of the coming movie for a screening at 7pm. Then, it is followed with a conversation about it with a glass of wine.
A 5$ donation is suggested in order to contribute to the Alliance development and support it.
In the past:

April 2013 program: click here.
March 2013 program. Click here.
December 2012 program. Click here.

November 2012 program


June movies at the Alliance. Read our article.
L'Alliance Française de San Francisco
1345 Bush street
Agenda
Movie releases, Festivals & DVDs

Theatre plays, Ballet, Opera

Jazz, Rock, Pop, Symphonic & Co

Museums and Art Galleries

If you have some spare time...