MIRTILLE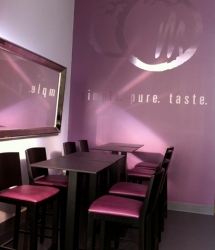 Mirtille has closed.
Mirtille is now open and this is real good news! François et Isabelle Chevillotte fell in love with this place where big and wide windows...
contribute to its nice and cosy brightness. Purple (myrtilles being the french translation of blueberries...) is everywhere, in this simple, refined and sophisticated design.
The place : Mirtille is a 30-seat all-day café that should even have an outdoor terrasse in a very near future. The ultimate french touch!! It is located 87 McAllister, right behind the Art Institute of California, very close to the UN Plaza et Civic Center and 2 blocks away from the Westfield center (to fill in your shopping GPS).
The menu : Soups (Carots-Ginger-Honey is simply to die for!), one-bite sandwiches made with pretzels, baguettes ou ciabattas (Ham and cheese could sound so ''déjà'' while it is a pure delight!) , quiches, and a fresh and appealing salad bar. Eventually, no way to resist the tiny little and so tempting sweet delights to acompany your coffee.
The spirit : A french touch to prepare and cook tasteful food, using locally sourced seasonnal ingredients. Sustainibility is part of the whole process and commitment.
Keep in mind that… Mirtille takes orders and make deliveries (for gourmet and yet hardworking meetings, sounds just perfect!), Mirtille is also going to offer caterinf services and last but not least... prices are pretty low and do already include the ''sales taxes''.
Mirtille
87 McAllister @ Leavenworth - @ 7th street
Open week days from 7 :00 am to 7 :00pm,
Saturday from 8 :00 am to 7 :00pm
Sunday from 8 :00 to 3 :00pm.
For more information... the website
$$$$$
Agenda
Movie releases, Festivals & DVDs

Theatre plays, Ballet, Opera

Jazz, Rock, Pop, Symphonic & Co

Museums and Art Galleries

If you have some spare time...