MIGHT IT BE THE EGGPLANTS SEASON?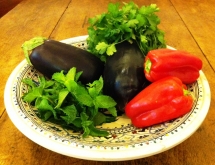 Eggplants... As a caviar or a salad, fried or simply baked (that might make quite a difference!), sliced or diced, served cool or not... You can be sure to amaze your guests, even to surprise them, and in the end... they will be thrilled!
Don't be shy. It might sound a bit tricky sometimes, but follow the instructions and it will work fine. Below are 3 different recipes that will delight everybody.
Eggplants ''caviar''
So fresh and tasty as an appetizer. Fits perfectly barbecue meals.
Baked eggplants salad
With lemon, fresh cilantro, olive oil... the perfect summer appetizer.
Fried eggplants salad
Fresh salad for a fancy appetizer or warm with your main dish, it's your call!
Thank you soooo much to Catherine!
Agenda
Movie releases, Festivals & DVDs

Theatre plays, Ballet, Opera

Jazz, Rock, Pop, Symphonic & Co

Museums and Art Galleries

If you have some spare time...