MHD, the Parisian rapper, is coming back to San Francisco
MHD, Mohamed Sylla, the French rapper who initiated | created | invented | imagined the Afro Trap music style, is coming back to San Francisco (second to last concert of his North American 19 tour in February).
A year ago, MHD performed at the Regency Ballroom. He is back with a new album and a 12 concert North American tour in February 2019.
MHD released his first album in 2016 and met a huge success with dozens of millions of views on Youtube. He is considered as having initiated a new style in France in the Rap realm.
With Bravo or A Kle Nta... even if you don't understand the lyrics, you should not resist the urge to dance and move.
And what about Champions League... ? Wide success in France last summer. Whether you are a soccer fan or not, yoou were a bit part of the Champions League pace.
What about his new album, "19". Basically, it is a reference to the Parisian "arrondissement" where he grew up and where his family is still living. MHD considers the whole are as his own family that supported from the very beginning. Hence the tribute with his new album.
Listen to the first single...
We were wondering how MHD, with his songs in French, could be noticed on this side of the world. Artists like Drake and Madonna definitely helped because they shared their enthusiasm about MHD on the social networks.
And MHD could also count on... sport! From Adidas to Puma, his creations and images have been used in advertising. That definitely helps to get a ''little spot in the spotlight''.
MHD
@ the Independent
February 25, 2019
To buy yourtickets, click here.
21 and over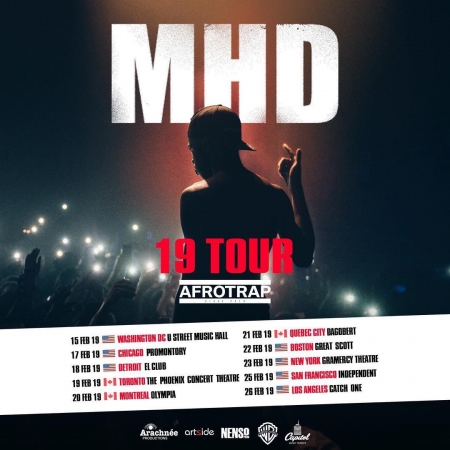 Agenda
Movie releases, Festivals & DVDs

Theatre plays, Ballet, Opera

Jazz, Rock, Pop, Symphonic & Co

Museums and Art Galleries

If you have some spare time...