Meet with the French author Eric Vuillard in San Francisco and Berkeley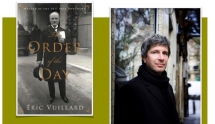 Eric Vuillard, the French writer, will be in Berkeley and San Francisco respectively November 6 and 7 & 8, 2018. It should be inspiring and so related to the tragic recent news and our political environment.
With The Order of the Day, Eric Vuillard received the prestigious literary award, Le Prix Goncourt, in 2017.
You want to read this short novel, like a chronicle of a tragedy foretold, the tragedy of the WWII, the tragedy of the Nazism, the tragedy of the Shoah.
Eric Vuillard is detailing 3 important episodes. The first one took place on February 20, 1933. Goering gathered 24 of the most powerful and important booses of the German Industry and asked to support and finance the access to the power by Hitler.
The second one is the meeting between Hitler and the Austrian chancelor, Schuschnigg, who was humiliated with a cynism which is hard to cope with.
And the 3rd one is the dinner in London where Ribbentrop is playing with Prime Minister Neville Chamberlain, like Scar (in the Lion King - simple but efficient reference) with a mouse.
After the reading, you will feel like appalled, and ashamed, ashamed that these persons like the 24 industry moguls, put a handherchief on their honor (tiny handkerchief actually) with their greater financial interests and tiny qualms in mind.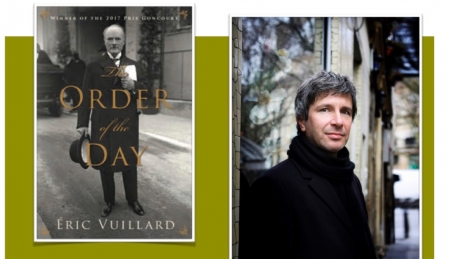 Considering how extremist political parties keep winning elections, we would for sure recommend that the reading of The Order of the Day becomes mandatory at school, as a wake up call.
The 2 meetings with Eric Vuillard in Berkeley and San Francisco should be captivating.
Thanks a lot to all the sponsors and organizers and presentators...
the Cultural Services of the French Embassy,
le Département de Français de UC Berkeley,
the Center for the Art of Translation,
the JFCS Holocaust Center,
the French Consulate in San Francisco
to offer that kind of great literary event in San Francisco and the Bay Area.
ERIC VUILLARD
L'Ordre du Jour - The Order of the Day
@ UC Berkeley on November 6, 2018 at 12pm
@ the Jewish Community Library on November 7, 2018 at 7pm
@ the Mechanics Institute Library on November 8, 2018 at 6:30pm
Nathalie Gobbi for LostinSF
Agenda
Movie releases, Festivals & DVDs

Theatre plays, Ballet, Opera

Jazz, Rock, Pop, Symphonic & Co

Museums and Art Galleries

If you have some spare time...