Matisse and Diebenkorn... 2 good reasons to visit the SFMOMA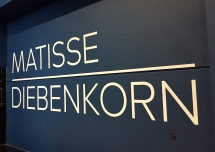 Of course... the SFMOMA offers a multitude of great reasons to visit the museum, to go back there, to wander here and there through an awesome display of art and beauty. It happens that the new exhibition dedicated to Matisse and Diebenkorn is simply splendid. LostinSF went to the preview and share first impressions with you, hoping to inspire you.
LostinSF went to the preview to Matisse Diebenkorn at the SFMOMA.The new exhibition opens March 11, 2017 until May 29, 2017.
We thought we knew Matisse already. We were wrong. We totally rediscovered the French artsist and found out about Diebenkorn, whose name was familiar but we did not know much about him. We had had the poor idea to skip the Berkeley Years exhibit at the de Young Museum in 2013. #damnit
"Matisse/Diebenkorn is an incredible story of artistic inspiration, revealing how Diebenkorn's enduring fascination with Matisse informed his own body of work in substantive and often surprising ways," said Janet Bishop, Thomas Weisel Family Curator of Painting and Sculpture. "The exhibition casts new light on two artists represented in depth in SFMOMA's holdings, and in fact several of the Matisse paintings now in our collection were among the very first paintings by the French artist that Diebenkorn ever saw."
Richard Diebenkorn is a central artist in the Bay Area Figurative Movement. He was born in Portland but he grew up and lived in San Francisco, in the Ingleside neighborhood (Go and see by your self. You will love its colors, curves and hills.), graduated from Lowell High School; attending Stanford University, the University of California, Berkeley and the San Francisco Art Institute (then the California School of Fine Arts); and teaching at both the San Francisco Art Institute and the California College of the Arts. We can definitely call him a local artist!
Diebenkorn's first truly immersive experience of Matisse's work occurred in Los Angeles in 1952, when he encountered such important Matisse paintings as Goldfish and Palette (1914) and Interior at Nice (1919 or 1920) in a traveling retrospective. Shortly after seeing this exhibition — a decade since his first experience of Matisse's work (at the Palo Alto home of Sarah Stein, one of the French painter's earliest champions.) — Diebenkorn began to incorporate elements of the French painter's approach to painting into his own compositions, which is reflected in the brighter palette and new interest in structure evident in Diebenkorn's Urbana No. 5 (Beachtown) (1953) and Urbana No. 6 (1953). The opening galleries of the exhibition feature outstanding works from Diebenkorn's Urbana and Berkeley periods (1953–1955) that demonstrate the significant impact of his early encounters with Matisse on his then predominantly abstract paintings.
Although they never met, both artists have a longstanding history in the Bay Area and deep connections to SFMOMA. Matisse's expressive paintings were first introduced to San Francisco shortly after the 1906 earthquake, shocking the arts community with their startling colors and brushwork. The French artist made one visit to San Francisco, in 1930, and his very first West Coast survey was held at SFMOMA in 1936, a year after the museum was founded. Matisse's work — specifically Woman with a Hat (1905), on view in the exhibition — has become a historical anchor of SFMOMA's painting and sculpture collection. Diebenkorn visited SFMOMA for the first time in 1945, and exhibited his work here for the first time in 1946.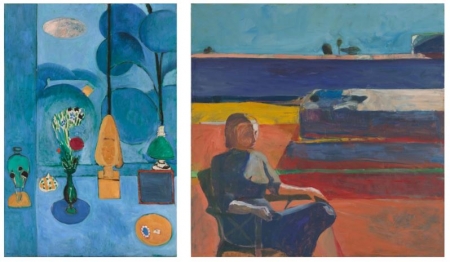 Left: Henri Matisse, The Blue Window, 1913; oil on canvas; The Museum of Modern Art, New York, Abby Aldrich Rockefeller Fund; © Succession H. Matisse / Artists Rights Society (ARS), New York
Right: Richard Diebenkorn, Woman on a Porch, 1958; oil on canvas; New Orleans Museum of Art, museum purchase through the National Endowment for the Arts Matching Grant; © the Richard Diebenkorn Foundation
Be prepared for a vast and dense exhibition for which one needs time to fully enjoy the selection and immerse oneself in it. The selection gathers 40 paintings and drawings by Matisse and 60 paintings and drawings by Diebenkorn — from museums and private collections throughout the U.S. and Europe.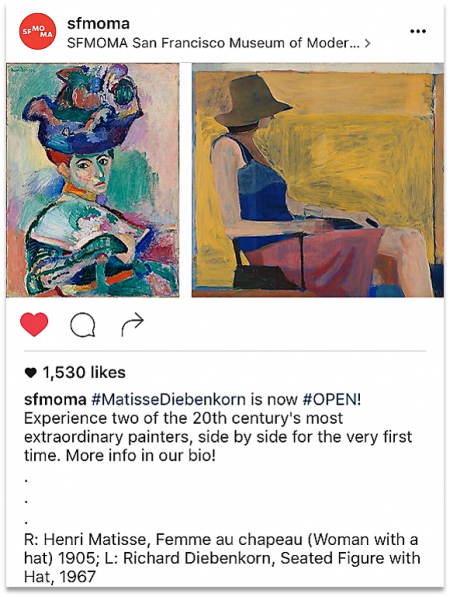 Taking pictures is prohibited (and we respected the instruction). So no report in photos, but in words. We took some notes while we were discovering the exhibition. Below is the result in a telegraphic style...
Urbana #2 The Archer Can't get my eyes off this blue!
Woman on a Porch !! You feel like you know her.
Woman with a Hat by Matisse (of course!) et Seated Figure with Hat de Diebenkorn (the posture, the body language, similarities are disconcerting)
Still life with Orange Peel!!! We were never keen on Still Life style. And yet, that one!
Coffee by Diebenkorn / Laurette in a green robe by Matisse // Hommage, inspiration, tributte...
Man and Woman in a large room bleus in fifty shades of blues and greys...
Girl with flowered background
Matisse Carmelina // with Studio Wall by Diebenkorn Another tribute.
Recollection of a visit to Leningrad by Diebenkorn. Possibly our favorite one. Motivesand patterns.
Ingleside Splendid!!!!So familiar, it makes it even more appealing.
So here we are. It is pretty simple, like the tale of our first emotions when diving into this splendid exhibition. And in the midst of this colors burst, you will be stricken by the room ''Drawing from the Model''. Exclusively in black and white, it is hard to leave and move forward.
The only flaw will be the crowd that Matisse Diebenkorn will obviously draw. Book your tickets in advance, download the SFMOMA app on your smartphone, choose your time wisely and above all... take your time.
We wish you the genuine delight we experienced at the first glance at Matisse Diebenkorn. That it what art is meant for and when it happens... you're grateful::-)
MATISSE DIEBENKORN
@ SFMOMA
Until May 29, 2017
Open 10am to 5pm Friday to Tuesday
Open 10am to 9pm on Thursday
Closed on Wednesday
Agenda
Movie releases, Festivals & DVDs

Theatre plays, Ballet, Opera

Jazz, Rock, Pop, Symphonic & Co

Museums and Art Galleries

If you have some spare time...