MARGUERITE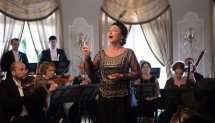 Latest movie by French director Xavier Giannoli with Catherine Frot as Marguerite will open on April 1st in San Francisco.
Catherine Frot won the Best Actress Cesar award or her unexpected and surprising part as Marguerite Dumont, a Castafiore who sings wholeheartedly, but she sings terribly out of tune.
The story, briefly...
A wealthy woman who loves to sing for her friends gets into trouble when she decides to perform in front real audiences.
1921, the beginning of the Golden Twenties.
Not far from Paris. It is party day at Marguerite Dumont's castle. Like every year, an array of music lovers gathers around a great cause at the owner's place. Nobody knows much about this woman except that she is rich and that her whole life is devoted to her passion: music. Marguerite sings. She sings wholeheartedly, but she sings terribly out of tune. In ways quite similar to the Castafiore, Marguerite has been living her passion in her own bubble, and the hypocrite audience, always coming in for a good laugh, acts as if she was the diva she believes she is.
When a young, provocative journalist decides to write a rave article on her latest performance, Marguerite starts to believe even further in her talent. This gives her the courage she needs to follow her dream. Despite her husband's reluctance, and with the help of a has‐been divo, both funny and mean, she decides to train for her first recital in front of a crowd of complete strangers.
Marguerite stirs up mixed feelings. We are embarrassed, ashamed, kind of guilty and ''partner in crime'', the crime of hypocrisy, lying and manipulation. And yet, we can't help but admiring this woman for her passion, for strength, for her positive spirit and energy.
Catherine Frot is superb. She is beautiful, beaming, passionate. She is also naive, so naive, and we don't whether she pretends it or not. We can't help but liking her. We hope, desperately hope, that it will either stop or a miracle will happen and the cacophony turn into harmony. She so believes in herself. She is working so hard. We also hope that her relatives will finally tell her the truth, to help her, save her. They also feel the shame sometimes, and they happen to be on the verge to reveal the whole thing, the whole trickery. But last minute, they change and pull themselves together. They are afraid, coward, and it's rather their embarrassment than their compassion that drives them to this limit.
Some critics mentioned that Marguerite sings so painfully out of tune that the movie lost its credibility. But that's the main pilar, that's what makes the movie sway from drama to comedy, from sincere joy to pity, from contempt for those who deceive her to empathy for this outstanding and intense character.
MARGUERITE
Movie by Xavier Giannoli
Witth Catherine Frot
Opens April 1st, 2016.
Landmark Embarcadero in San Francisco
Landmark Albany Twin in Albany
Christopher B. Smith Rafael Film Center in San Rafael
Aquarius Theatre in Palo Alto
Camera 3 in San Jose
Agenda
Movie releases, Festivals & DVDs

Theatre plays, Ballet, Opera

Jazz, Rock, Pop, Symphonic & Co

Museums and Art Galleries

If you have some spare time...