MAKER FAIRE! LIKE BURNING MAN BUT FOR THE KIDS AND WITH THE SCIENCE TWIST.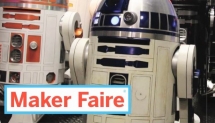 The 11th edition of Bay Area Maker Faire is happening on May 21 and 22 in San Mateo. Discover this amazing event where creativity and imagination prevail.
A two-day, family-friendly festival,
the greatest show and tell on earth
that celebrates invention, creativity and resourcefulness.
That's what it is!
The Maker Faire was created in 2006 by the magazine Make to celebrate arts, crafts, engineering, science projects and the DIY mindset.
The first edition took place in San Mateo in 2006. Since then, there has been many Maker Faires in San Mateo again and in other locations like Austin, New York and more recently Paris.
Anyway, the event's purpose fits perfectly the Bay Area's spirit. We went there some years ago and loved it as well as the kids: it's odd, funny, full of boundless imagination. For example, we still have in mind the bicycle-powered music stage that, afterwards, popped in so many outdoor events.
Genuinely clever inventions next to odd creations, giant robots, Mentos fountains, solar vehicles...: it is a mix of Guiness Records book, Exploratorium et wide lab with Gyro Gearloose and a galore of creative assistants!
And now they are on Snapchat. That makes sense considering that it became the main social network for kids and young adults who are 16 and younger. And you, are you on Snapchat!?
And for those who think that brain and body both need exercise, join the Rock the Bike crowd starting from Dolores Park. Rock the Bike.
You are going to love it!
Maker Faire 2016
MAy 21 & 22, 2016
San Mateo Event center
Agenda
Movie releases, Festivals & DVDs

Theatre plays, Ballet, Opera

Jazz, Rock, Pop, Symphonic & Co

Museums and Art Galleries

If you have some spare time...