Make Music Day Celebrations in San Francisco and Around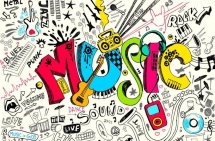 Make Music Day is a great tradition that French people love to celebrate. It is not as popular here but still... Here are some great ideas to celebrate music in San Francisco for Make Music Day.
On June 21, 1982, the first edition of the "Fête de la Musique" took place in Paris, initiated by the French minister Jack Lang (in charge of Culture) and Maurice Fleuret. They based their project on the fact that 5 million people played a music instrument in France at that time. To help talents thrive, la "Fête de la musique" (if you spell it "Faites de la musique", it means " Make music"!) was launched.
The French event rapidly met a huge success and became a landmark in the yearly cultural calendar. It was even widespread all over the world, and June 21 is now well known as the World Music Day.
The purpose of the event: celebrate music and actually all the musics. Free concerts with professional and non professional musicians and singers are organized mixing all the styles, languages, styles and talents.
June 21st does not trigger the same enthusiasm than in France. Actually we celebrate music all year long in San Francisco. And the other thing is that our sometimes painful summer weather does not always sustain outdoor events evening projects.
Nevertheless... here are some celebrations you should like.
- MAKE MUSIC DAY 2017 -
- SAN FRANCISCO -
MAKE MUSIC DAY SAN FRANCISCO 2017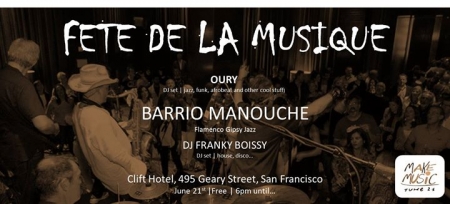 > Make Music Day San Francisco 2017 / Event details
The Clift Hotel reiterates this year its contribution to the event following the great success of last year first edition, with Zola Johnson and The Frogs.
This time, go back to the Clift, enjoy the bright illuminated bar and the great line up including Barrio Manouche. The local band lead by Javier Jimenez, performed at the TLF recently !
> lostinsf.com/en/barrio-manouche-will-perform-at-the-tlf-in-san-francisco
OURY will also perform once again. OURY, DJ jazz, funk, afrobeat, and other cool stuff... That's the way he describes himself. Listen and figure out by yourself.
THE ALLIANCE FRANÇAISE OF SAN FRANCISCO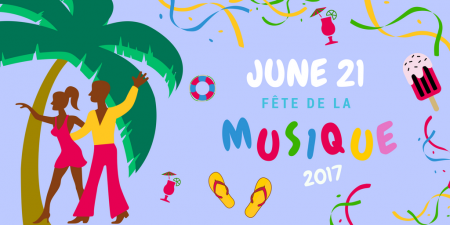 The Alliance Française de San Francisco has been part of the festivties for, at least, the last 6 years. Book your calendar for June 21, 6pm to midnight. The line up includes about 8 different local bands: Meant to Bend, French American Quartet, Swamp Child, Transcnd, Tohm Lev, The Stu Tails, The Crimson Curtains, Big Air Show Boat. Discovery evening!
La Fête de la Musique à l'Alliance Française de SF
Wednesday, June 21, 2017
6pm - 12am
AMELIE WINEBAR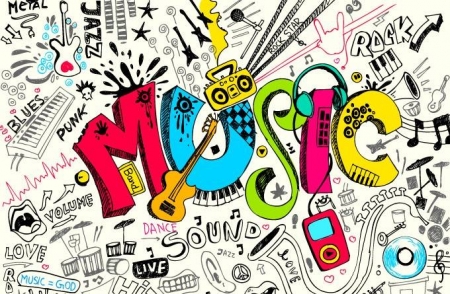 Amelie Wine Bar... Our favorite spot on Polk is also a main actor of the event in San Francisco. On June 21, starting at 6pm, music will invade the bar.
Make Music Day at Amelie Wine Bar.
You should not miss 3 other events organized on other dates but definitely embracing the spirit of National Music Day.
CONSERVATORY OF FLOWERS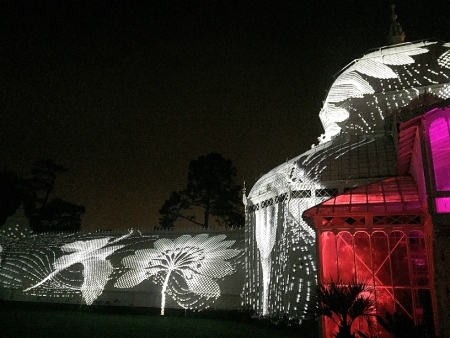 Surrealistic Summer Solstice Concert and Grand Lighting
To celebrate the Summer of Love, the Conservatory of Flowers had to offer something memorable and outstanding.The result is matching all expectations we could have. The Illumination will take plave every evening until October 21, 2017. And to accompany the official opening of the event, a free concert has been scheduled for June 21st. Read more.
STERN GROVE FESTIVAL

On Sunday, June 25, 2017, first concert of the Kool and the Gang !
Free event in a stunning natural environment. If you never tried, this is the right time to start.
Free concert of Kool and the Gang at the Stern Grove Festival
Golden Gate Park Band
June 18 or 25 juin, you could go and spend some time at the Golden Gate Park (at the music concourse between the de Young and the Academy of sciences). Free outdoor concert. #sfstyle #sfspirit
Sunday free concerts at the Golden Gate Park
Let the music be!
MAKE MUSIC DAY IN OAKLAND
And if you feel like crossing the bridge or stay East Bay (it all depends on your starting point...), we could meet at Forage Kitchen in Oakland for the Make Music Day Event co-organized by the Alliance Française of Berkeley and La Flamme.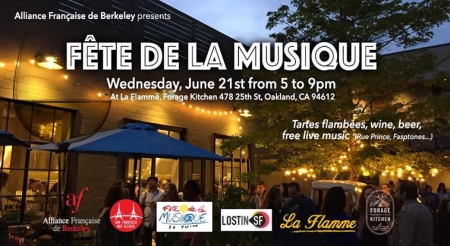 Agenda
Movie releases, Festivals & DVDs

Theatre plays, Ballet, Opera

Jazz, Rock, Pop, Symphonic & Co

Museums and Art Galleries

If you have some spare time...