Luminous and peaceful jellyfish invasion at Union Square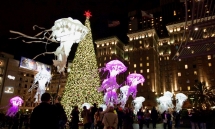 A bit of Burning Man will come to Union Square on December 21, 2017 with the psychedelic undulations of luminous jellyfishes by local group Billion Jelly Bloom.
Union Square already has its gigantic illuminated tree and its outdoor icerink, opened until late at nigh every day. On Thursday, December 21, 2017, the silent and peaceful procession of luminous jellyfishes organized by Billion Jelly Bloom will add a poetic touch to the whole picture.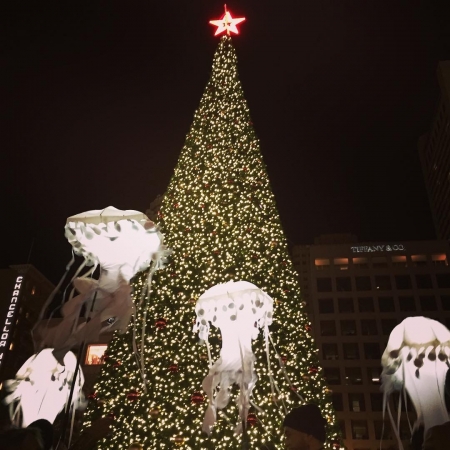 > Follow Billion Jelly Bloom on Instagram
We owe this performance to Billion Jelly Bloom, Mission based organization, who was born (kind of) in Burning Man. Actually, the Jellyfishes showed up for the 1st time in Santa Cruz back in 2010. The following year, Patricia and Robert Lord brought their bright white ''puppets'' to Burning Man. Since then, Billion Jelly Bloom was founded, organizing arts performances and renting its beautiful aerial animals for events and parties. Gorgeous photos from them at the Treasure Island Music Festival & at the California Academy of Sciences have been shared online.
We met them at the Dolores Park when it reopened in 2016. And we still remember the feeling, something between awe and delight.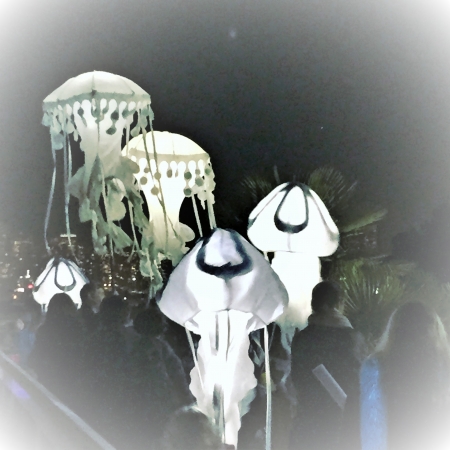 It might be too late now to be part of the flash mob (last time we checked there were only 2 spots left), but plan a detour to Union Square on Thursday between 7 and 9pm for an uncommon experience.
Union Square
Jellyfish Flash Mob
Organized by Billion Jelly Bloom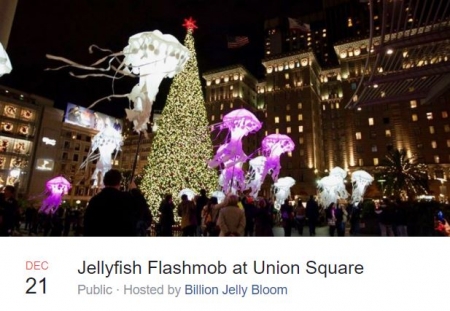 Agenda
Movie releases, Festivals & DVDs

Theatre plays, Ballet, Opera

Jazz, Rock, Pop, Symphonic & Co

Museums and Art Galleries

If you have some spare time...