Lingerie
Lingerie and intimates specialized stores: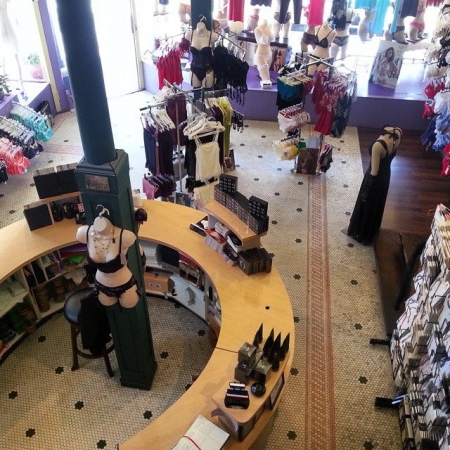 Les Cent Culottes
French brands, that makes sense. They offer brands like Huit, Aubade, Lou, Barbara... with prices in accordance with french ones.
2200 Polk street -- @ Vallejo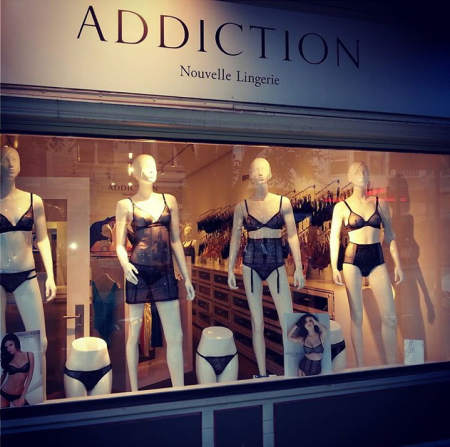 Addiction
Rather new on Union Street. Great new brand offering nice models with simple and yet sophisticated fabrics and styles. Casual, sexy and comfortable all at once. Great colors also. T
1824 Union Street
Alla Prima
Rather good reputation and stylish website. Brands offered among others: La Perla and Eres.
1420 Grant street
539 Hayes street
Dollhouse Bettie
Soft, sexy, kind of quaint models.
Mary Green (local famous designer) among other brands.
1641 Haight street -- @ Belvedere
Toujours Lingerie
Lou, Somine Perele...
Bras around 100$.
2484 Sacramento -- @ Fillmore
Aricie Lingerie
A bunch of french brands: Aubade, Chantelle, Lise Charmelle, Simone Pérele, Nina Ricci…
Bras from 100 to 200$.
50 Post street -- between Kearny and Montgomery
Chadwick's of London
Fine lingerie from all around the world...
SF boutique has closed but there are still 2 locations in Marin (San Anselmo and Mill Valley).
Marygreen
Local designer with a quaint touch. Very cute!
1244 Larkin -- between Pine and Bush
Major brands:
Victoria Secret
Reference brand! The fashion show with its worldwide famous models is supposed to be one of the most glamorous event of the year.
Perfect for push ups, but nothing to deal with the fine french lingerie concept.
335 Powell street -- Union square
1 Embarcadero center
865 Market -- Westfield center
Stonestown Galleria
PINK
Victoria secret for teenagers. Cosy, comfortable and casual. Rather well designed.
Powell street -- Union square.
Gap Body
The brand used to offer some European style items, but it is over now. Too bad!
That said, they have a simple, functional and practical range.
Sport items are pretty interesting and well designed too.
All roads lead to... Gap!!
Stores with an underwear department:
Old Navy
No bras but funny, colourful panties.
H&M
Wide underwear department, especially in the Powell store.
American Eagle
AERIE is their specific underwear brand. Pretty casual
Forever 21
Great especially for teenagers.
American Apparel
Quelques must have... like the cross back bras.
Anthropologie
Pretty simple and rather sophisticated models. Very soft and sweet colors palette with, among others, gray, light mauve, taupe...
Urban Outfitters
Anthropologie for teenagers, even though you don't need to be a teenager to shop there...
Agenda
Movie releases, Festivals & DVDs

Theatre plays, Ballet, Opera

Jazz, Rock, Pop, Symphonic & Co

Museums and Art Galleries

If you have some spare time...