LET THE SUNSHINE IN, BY CLAIRE DENIS, WITH JULIETTE BINOCHE, OPENS IN SF AND THE BAY AREA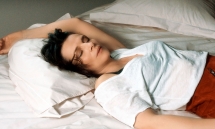 Let the Sunshine In, the movie by the French director Claire Denis, with Juliette Binoche, opens in San Francisco and the Bay Area.

The movie is called "Let the Sunshine In," but don't think about the title. It has nothing to do with this Claire Denis film, and no one ever uses those words over the course of the movie. The French title — "Un beau soleil interieur" (a beautiful inner sun) — is more in the right spirit. It's a deep and moving investigation into one woman's inner struggle as she goes about looking for true love.
> Read further the great SF Gate article
The story briefly...
Isabelle, Parisian artist, divorced mother, is looking for love, true love at last.
The trailer...
Let the Sunshine in (Un Beau Soleil intérieur)
By Claire Denis
With Juliette Binoche
>Theaters and showtimes in SF and the Bay Area
Agenda
Movie releases, Festivals & DVDs

Theatre plays, Ballet, Opera

Jazz, Rock, Pop, Symphonic & Co

Museums and Art Galleries

If you have some spare time...